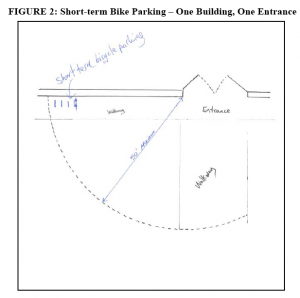 The Tucson Pima County Bicycle Advisory Committee passed a motion supporting the City of Tucson's revision to regulations governing bicycle parking around businesses and encouraged flexibility in the regulations.
The new regulations will base the number of parking spots for bikes on the square footage of the building rather than basing it on the number of parking spaces provided to cars.
The change is necessary because the city is looking at requiring less parking for automobiles, meaning less parking for bikes.
Tom Thivener the City of Tucson's bike and pedestrian program manager said the new parking regulations will prevent unused parking lots like those at El Con Mall.
TPCBAC member Larry Robinson said in the past, businesses were easily able to appeal the regulations and become exempt from the bicycle parking regulations.
According to Thivener, that option is going to be removed. Businesses that physically can't install bike racks because of space issues can pay a fee to the city that will be used for other bicycle parking around the city.
Adam Smith, a principle planner for the city's planning and development services, said businesses can request an exemption from the city, but it can't be for reasons like the business owner is out of money.
"Economic reasons cannot be [a reason] — or merely because you would rather put something else in front of the store rather than a bike rack — is not a defensible rationale to pursue a variance," Smith said.
TPCBAC member Eric Post said he was concerned the requirements would be unrealistic for some businesses.
An example is Costco, which recently put in space for 70 bikes. Post said it was unrealistic for cyclists to use that many spaces at a bulk-item store. He also noted that smaller businesses may not have enough parking if it is solely based on square footage.
"Isn't a little obnoxious, though to have 70 bike parking spots at Costco?" Post said. "Is there a way to revise that so the business owner isn't put out for no reason?"
Thivener said Costco went above and beyond and put in more spaces than were required of them.
Post recommended there be flexibility to require businesses to build reasonable parking areas for cyclists.
TPCBAC member Rich Corbett said he wanted to see some flexibility in the ordinance as well.
"I think flexibility is key," Corbett said. "I've seen many bike parking spaces that are unused and I've seen many spaces that are overused."
TPCBAC chairman Brian Beck said he wanted to make sure there was uniformity in where the parking would be located. He said he would like to see the parking up front and visible, rather than forcing cyclists to hunt for parking.
"Fundamentally I would like the bike parking ordinance to legitimize bicycles," Beck said. "Too often, bike parking is around the back and riders don't see it."
Thivener said the regulations will require bicycle parking to be located within 50 feet of main entrances and will require parking to be spread out when there are multiple businesses using the same parking lot.
Other changes in the regulations will require more short-term bicycle parking and less long-term parking for employees, which the city says is underutilized.
Developers will also be allowed to put the bicycle parking in a the car parking lot if they make it safe for cyclists.
The changes will be sent to the City Council for approval in the fall.
Download a draft copy of the new bicycle parking regulations.
Law enforcement an issue for Mt. Lemmon cyclists
Matt Zoll, Pima County's bicycle and pedestrian program manager, said he received a call from a deputy requesting the county install signs along Catalina Highway indicating cyclists ride single file. Zoll said they agreed to post more "Share the Road" signs.
According to Post, cyclists are allowed to ride two abreast, but have a responsibility to allow cars to pass if five or more vehicles are waiting.
Zoll also mentioned a danger to cyclists coming down if a driver has to cross the yellow line to pass.
Also discussed was a rider who was struck on the GABA Mount Lemmon Hill Climb on Friday.
GABA president Jim Harms said Tuesday that the rider was taken to the hospital but released the same day.
According to Post, the cyclist was mailed a citation for not being as far right as possible — but Post said the driver actually passed two cars and then clipped the cyclist while trying to get back into the lane.
TPCBAC elects new chairwoman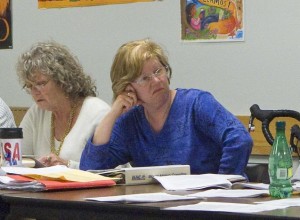 Starting June 1, the BAC will be led by Karen Berchtold.
Berchtold moved to Tucson from Massachusetts four years ago and has served as the committee's secretary and worked with the facilities and outreach subcommittees.
Berchtold said she plans to work hard on the BAC's role with the application for platinum from the League of American Bicyclists, as well as defining the mission for each of the subcommittees and the committee as a whole.
The vote was 9-6.
Editors note: Lastly (for Scott) I got the final word on the Ride of Silence and helmet use. If you show up without a helmet, you will be turned away. The organizer said it was because of an insurance rule.