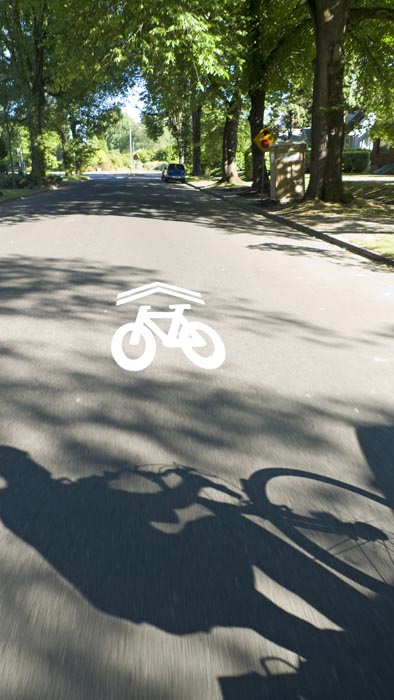 The Tucson Pima County Bicycle Advisory Committee passed a motion supporting increased usage of shared lane markings in areas around the region.
Shared lane markings — or sharrows — are pavement markings designed to be used on streets without bike lanes that have low traffic speeds and volumes. The markings alert motorists to expect bicycles and shows cyclists where it is safe to ride.
The BAC's downtown subcommittee included a list of possible locations for sharrows. They include:
9th Street from 4th Avenue to Euclid Avenue
University Boulevard from Park Avenue. to 4th Avenue
Tucson Boulevard from Broadway Boulevard to 8th Street
Park Avenue from 6th Street to Speedway Boulevard
4th Avenue from University Boulevard to 9th Street
7th Street and 7th Avenue at the railroad crossing
Elm Street from Tucson Boulevard to Campbell Avenue along the Arizona Inn area
Church Avenue from 6th Street to Cushing Street
Tom Thivener, the City of Tucson's bike and pedestrian program manager, said it is important to be selective when asking for shared lane markings.
"In some circumstances it's better to ask for bike lanes," Thivener said.
He was concerned that even if a sharrow were to be used as a temporary marking until bike lanes could be installed, that some people would begin considering shared lane markings in lieu of full bike lanes.
Matt Zoll, Pima County's bike and pedestrian program manager, said he is considering using sharrows in some areas as a stop-gap measure until funding for full bike lanes could be secured.
Larry Robinson, the chair of the BAC's subcommittee, said he would be interested in hearing about additional locations that make sense to use shared lane markings.
The markings can only be used on low-volume streets that have a posted speed limit of 35 miles per hour or less.
Update on TPD enforcement
Sergeant Jerry Skeenes, the Tucson Police Department traffic officer who is heading up the enforcement grant targeting pedestrian and bicycle violations, updated the BAC on the enforcement efforts.
According to a document provided by Skeenes, roughly 375 cyclists have been cited for various infractions.
Nearly 60 percent (294) of the bicycle violations issued have been for cyclists riding on the sidewalk.
They have issued 81 citations for stop sign violations. Skeenes said they have been avoiding issuing citations to cyclists who slow down to a safe speed, but may not come to a complete stop. He said they are primarily on the lookout for people who don't make an effort to slow down and blow through the intersection.
Seventy-five cyclists have been cited for not having lights or a reflector, 36 have been cited for riding the wrong way and 4 have been cited for not having working brakes.
To date, no motorist has been cited for violating the 3 foot law, but more than 60 motorists were cited for running red lights, not yielding to pedestrians or running stop signs.
Skeenes said they have started targeting motorists along Mountain Avenue in response to a Tucson Weekly piece complaining about motorists' behavior along that route. They cited several drivers for driving in the bike lane and making illegal left turns from Mountain onto Grant Road.
2009 regional bike count data & call for 2010 volunteers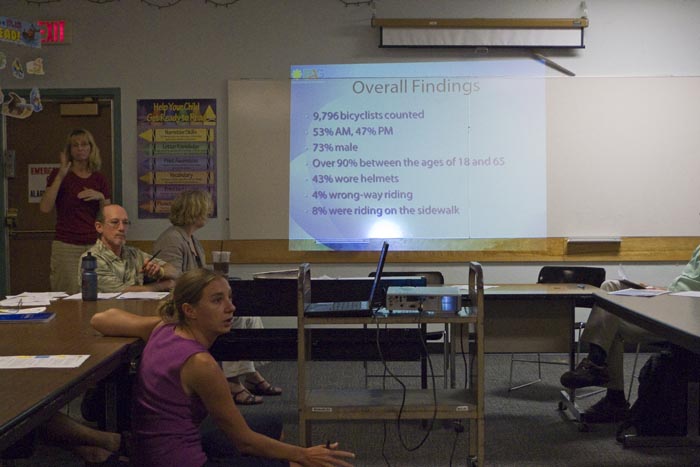 Ann Chanecka, a Pima Association of Government's transportation planner, presented a brief overview of the finalized 2009 bike count information.
According to Chanecka, the detailed report will be issued soon.
PAG is looking for volunteers to assist with the 2010 bike count, which will take place Oct. 19-Oct. 21.
In order to participate you must attend one of the training sessions which will be held Oct. 14 at 6 p.m. or Oct. 16 at 9 a.m. Download the info sheet for more detailed directions.
According to Chanecka, they will attempt to get a better count of the number of recreational cyclists by counting at various locations on the weekend.
Check back for a more detailed story when the in-depth report is released.