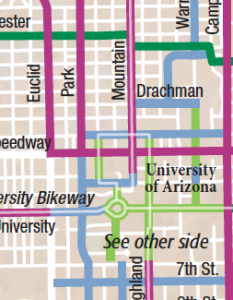 Members of the Tucson Pima County Bicycle Advisory Committee's education and outreach branch want riders to know there are alternatives to riding on Euclid Avenue.
Josefina Ahumada, the BAC's education and outreach subcommittee chair, said she was at University and Euclid waiting to cross the street and saw several cyclists riding on the sidewalk.
Ahumada approached one of the girls to tell her about the enforcement against cyclists riding on the sidewalk.
"The young woman said to me, 'Well where else can we ride?,'" Ahumada said. "I told her you should ride in a bike lane."
Ahumada said the student responded that there were no bike lanes on Euclid. Ahumada said she told her she could ride on Mountain Avenue instead.
"She had no idea what Mountain was," Ahumada said.
Ahumada decided that many of the students riding on sections of Euclid might not know about the alternative routes in the area. When she took the issue to the education and outreach subcommittee, they decided to try educating the people who ride on the street about other safer routes in the area.
"We have kids that are coming from the north and they are just coming down this busy, busy street that is not really for cyclists," Ahumada said. "It is not safe for them and then they end up doing things like riding on the sidewalk feeling like they are safe doing it which is quite the opposite."
The group will be stationed at the major intersections along Euclid Avenue between Grant Road and Sixth Street on Thursday morning. They are planning to hand out information pamphlets and let cyclists know about alternative routes in the area.
The goal is to make riders aware of what their options are so they can make an informed choice of where they want to ride," Ahumada said. "If they want to ride on Euclid, that is a choice they can make, but at least they can be informed about what their alternatives are.