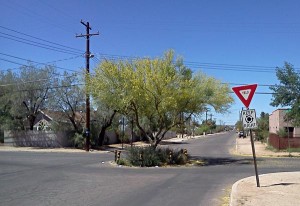 The Fourth Avenue/Fontana Bicycle Boulevard is entering its final stage, which focuses on signing and striping the route.
Tom Thivener, the city's bicycle and pedestrian program manager, said the the route should be completed soon.
"There is still quite a bit of work to do out there, but I think it will be wrapped up in a month," he said
The majority of the construction is completed including speed humps, traffic circles and traffic diverters, which force motorists to turn right rather than continue on the bike boulevard.
Now contractors are working on pavement markings and signage. Crews recently replaced several stop signs with yield signs.
Here are a few details about several of the bike boulevard's other elements:
Bike crossing at Ft. Lowell:
Originally planners wanted to install traffic restrictions which, like most of the other major intersections, would force traffic to turn right rather than proceed straight through the intersection.
Thivener said adding the restrictions at that intersection would have prevented the businesses' semi-trucks from accessing their location.
Because of that and budget issues, the city decided to scrap the plans and make the existing pedestrian crossing more bike friendly.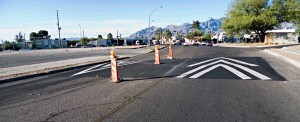 Thivener said they will widen the existing sidewalks starting about 75 feet from the intersection and build a ramp to allow cyclists to ramp up from the street onto the sidewalk.
He said putting the ramp 50-70 feet from the intersection allows cyclists to enter and exit the road in area that is more calm.
In addition to the sidewalks and ramp, the city is planning on adding several news signs legitimizing bikes. Existing pedestrian crossing signs will be replaced with signs that include bicycle and pedestrian symbols that are designed to alert motorists to the presence of bicycles.
Pavement strip:
One of the most unique aspects of the bike boulevard project is the repaving of a three-foot wide section of the street between Speedway Boulevard and University Avenue.
Several readers have commented on the patches and said they were quite bumpy still.
Thivener said he has been working with the crews to smooth out the pavement.
"It is getting better," he said. "I think we worked out some of the bugs with laying it out. It is definitely an improvement, it is not as jarring as it used to be."
He said he really wants to hear from the bike community when it completed, but is still hoping that bike boulevards will be prioritized for regular pavement maintenance.
What do you think so far?