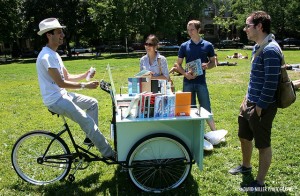 The Pima County Library is putting a new spin on the book mobile. The newest vehicle in its fleet has one less wheel and a giant sunroof.
The library's new book bike will make its debut this winter.
The books on the bicycle library will be free for people to take. Library cards and information about library services will also be provided. The idea is to educate people who may not have been to the library in a long time.
The bike is Pima County librarian, Karen Greene's project. She said she first wanted to do it more than a year ago when a friend forwarded her a link about the Chicago book bike.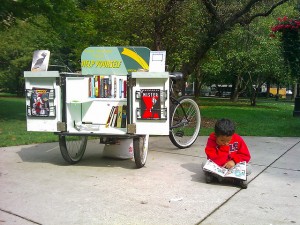 "I was really excited about it, but then I got caught up in life," she said.
The book bike was shelved for more than a year until Green read Mia Birk's book "Joy Ride," which inspired her.
"I said, 'I want to be Mia Birk, but since I can't be Mia Birk, what can I do to make a difference in Tucson using bikes?' I wanted to do more for the cycling community and the community at large.
Greene secured $4,000 from a state grant aimed at funding special projects for libraries across Arizona.
The bike is being made by Haley Tricycles in Philadelphia, which made the Chicago book bike. Green is planning some customizations, including an umbrella to provide shade.
The bike will be ridden by Pima County and City of Tucson staff as well as Pima County Bicycle Ambassadors.
Matt Zoll, the county's bicycle and pedestrian program manager, said the ambassadors will ride the bike to various events around the region.
Greene said the ambassadors would likely ride it the most — between 40 and 60 hours a month.
Greene said she envisions the bike going to various big events like Tucson Meet Yourself and more. She is hoping to debut the book bike at the Festival of Lights in December.
In addition to events,  she said she, "would like to try to setup some kind of regular schedule like the book mobile, but it would be the book bike."