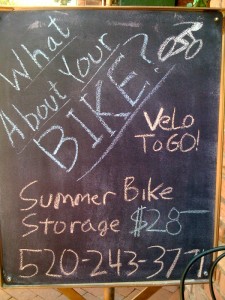 Fliers have been popping up on bikes all over the University of Arizona advertising a bicycle storage service for the summer.
The service is offered by Velo to Go, which was purchased by James Neff in January.
For $28, Velo to Go will pick up a students' bike, store it for the summer in a secure and insured storage facility, give it a quick tuneup and return it at the beginning of the semester.
Velo to Go's lead mechanic, Kalyn Sealinski, said they are trying to prevent bikes from being taken and sold at auction by the UA Parking and Transportation department.
"Unless you want to be plunking down $150 per semester for a new bike, this is a good alternative," Sealinski said.
Neff said he didn't start advertising the service soon enough.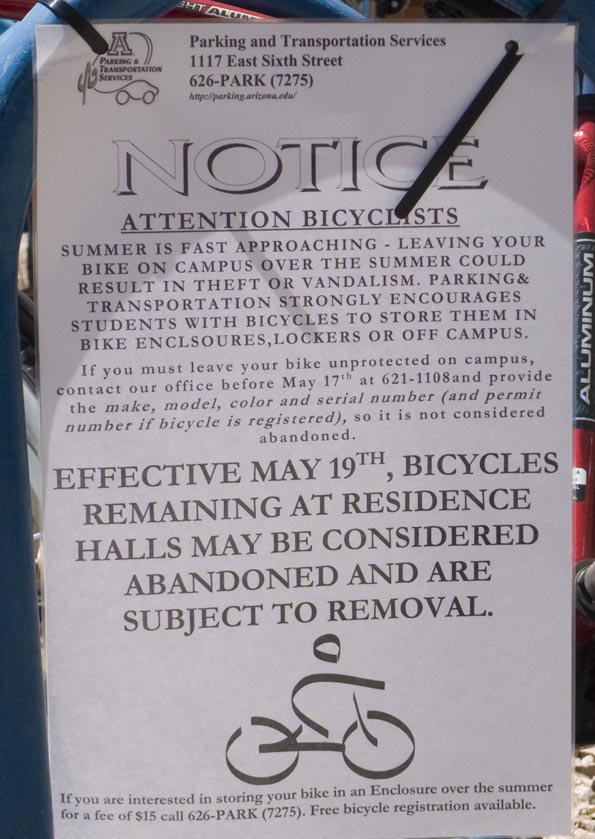 "We were a little late in getting our ads out," Neff said. "I was cleared to have posters put in the dorms, but I didn't get on the ball with that one."
Despite the late start, they had about two dozen students sign up for the service. At this point Neff said they have broken even.
Velo to Go is also offering to buy the students' bikes for $10 of they don't want to keep them.
"We are not paying top dollar, but if you just want to get rid of it quickly, we are going to take it off your hands, fix it up and turn around and sell it," Sealinski said.
"We haven't had any takers on that yet," Neff said. "We had one girl call, but she wasn't too happy with the $10."
In addition to the bike storage service, Velo to Go offers mobile repair services and bike rentals.
"Basically I call it AAA for bicycles," Sealinski said. "Not everybody knows how to handle a flat tire, some people don't even know how to put air in their tires."
Neff said the basic charge is $15 to ride out and fix the issue.
The bikes Neff rents aren't new, but he said they are reliable. They offer daily, weekly and semester-long rentals. The charge for a semester rental is $95 and includes a flat repair service.
The Velo to Go website is currently under construction, but you can contact them at 520-243-3771.