It's finally rolling. The CETMA Largo I ordered last May is on the road.
I've been riding it for a few weeks, but added the box and harness to ride with Luci on Friday. I've put a decent amount of miles on the bike and have a few impressions.
Check out the video to get a few more details and see what it looks like on the road.

It's a good thing I like to chat — unless I am at a bike event trying to get work done for the site — because people have lots of questions. Here are a few of the most common ones:
Where did you get that crazy contraption?
I ordered it from CETMA Cargo, which is run by Lane Kagay in Eugene, Ore.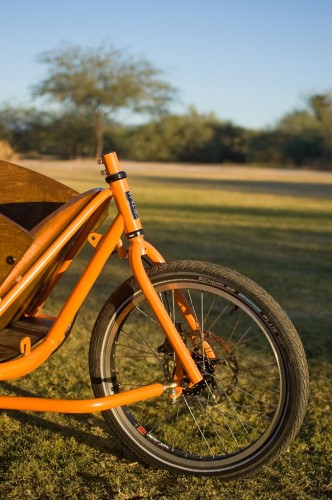 How does it ride with the wheel so far up there?
When you first get on, it's quite a different feeling, but after 30 seconds or so you can go pretty straight with a few wobbles. After a few days, you can put the bike anywhere you want.
What is interesting is if you switch back to a regular bike shortly after riding it, the regular bike feels really odd.
Now that I have a box, which was built by local bicyclist and carpenter, Larry Robinson, it handles even better. The more weight the easier it is to ride and keep straight.
The turning radius is really impressive, which comes in handy when trying to maneuver in tight spaces.
How much does it weigh?
A lot. It's a huge cargo bike, what did you expect? You really don't notice the weight unless you are trying to pick it up and move it around. Riding on relatively flat roads, it doesn't make much of a difference. I might think twice about trying any portion of Mt. Lemmon on it though. The bike probably weighs closer to 100 pounds than 50 pounds with the box and components.
What components did you use?
I didn't skimp too much on this thing. I went with an 8 speed internal gear hub, which I absolutely love. I wanted the 11 speed, but the price was just too much. If I had the funds, I would switch two of my bikes to IGHs. In the front, I went with the Alfine hub generator. Both rims are Sun Rhynolytes with Schwalbe Marathon Plus tires. I also added tire liners. I have already gotten a flat on the front, but it was from a two-inch thorn. For the cranks, I completed it with the Alfine external bottom bracket crank set.
I went with Shimano SLX hydraulic brakes because I'd read that hydraulics are preferable to cables because the length to the brake is so long. Lane Kagay, who makes the bikes, said he has been more than happy with traditional cable actuated disc brakes.
I am trying out the Velo Orange sprung saddle, which is nice.
For the bars, I went with the Origin8 Citi Classic bars. I'm still waiting on a stem that is shorter and has a steeper angle to it. If Luci were much taller, I'd hit her in head when I turned. The stem should provide a little more clearance.
I went with an aggressive mountain bike pedal to keep my feet in contact without having to use toe cages.
I have a Busch & Mueller headlight and tail light on order.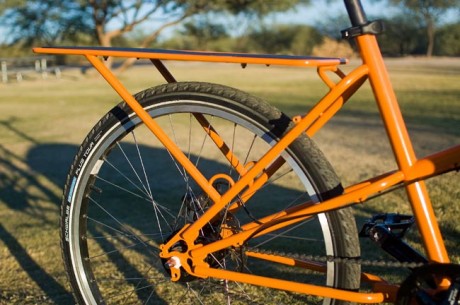 How much can it haul?
Officially: 250 pounds. Unofficially: Kagay says he hasn't broken one yet.
Does Luci like it more than the Xtracycle?
It's hard to tell right now because we've only been riding with her since Friday, but I think the does. She has more room to play, she can move her legs and feet more and she has a much better view.
I certainly love having her up front. It's nice to be able to hear her talking and checking out what she is up to. It's also cool to see what catches her attention.
I like the Xtracycle and recommend it a lot of people. Even though we have the bakfiets, I think we will still use our Xtracycles a lot.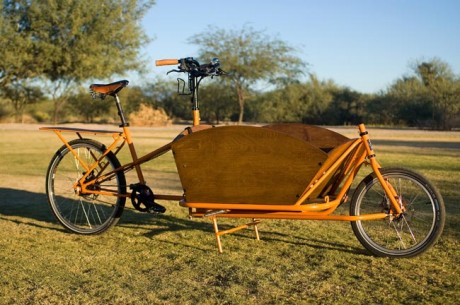 How much did that thing cost?
I haven't had the guts to tally up the total cost yet. The frame is $1,850 plus shipping. I had Kagay add a custom rack and went a little crazy with the components. Kagay just introduced a complete bike with good components for $2,850 plus shipping, which is $300.
I probably spent somewhere around $3,500 on it. It's worth it to us because this will allow us to remain a one car family regardless of any future additions to our family. Plus I'm a bike nerd.
Overall, given the short time I have been riding it, I am thrilled with it. We took it out on Halloween and had balloons, jackets, pumpkins, bags, candy, stuffed animals and more in it with plenty of room left for Luci.
Feel free to add questions in the comment section and I'll do my best to answer them.
Also, big thank yous to Duncan who helped me build the bike and Larry for building the box.