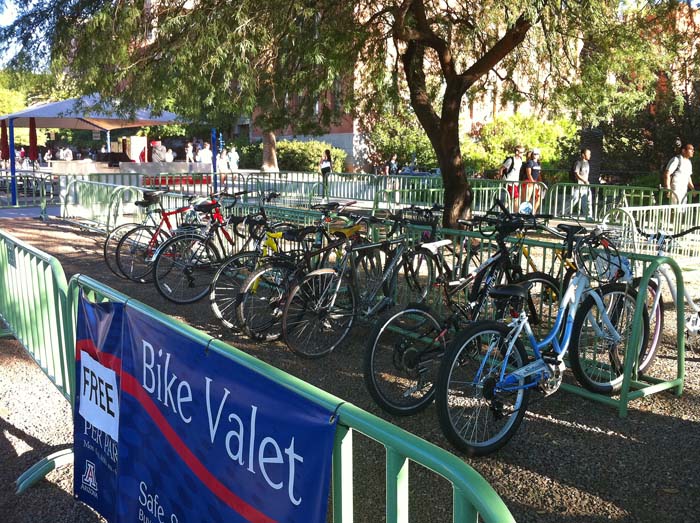 The University of Arizona is making changes to two of its most prominent bicycle programs on campus.
According to Charles Franz, the UA Parking and Transportation's alternative transportation program manager, the free trial period for the bicycle valet will be extended again.
Franz said the valet would be free to students and faculty until January 30, 2011. He said the extra time would allow more people to try it and allow the parking and transportation department extra time to market the system to more people on campus before they start charging.
"It was never about making money," Franz said. The department just hoped enough people would pay the .50-cent fee to cover the cost of the student employees.
According to Franz, the most bikes valeted in one day was just below 50, which would have brought in $25 in revenue.
The bike valet is located across from the student union and is open from 8 a.m. until 6 p.m. Check out the bike valet website for more information.
The Parking and Transportation Services department is also expanding its bike sharing program.
Franz said the program has become so successful that they are adding 15 additional bikes to their existing fleet of 10.
Five of the new bikes will be located in the Park Avenue garage, five at the Highland garage; and Franz is working with the campus recreation center to place the final five there.
He said if they can't work it out with the the recreation center, they will move the final five bikes in the Cherry garage. The current 10 bikes are located in the Tyndall and Sixth Street garages.
Bikes can be checked out 7:30 a.m. – 4 p.m, Monday – Friday. Check out the bike sharing website for more information.
Check out the video I posted last spring about the program.
TucsonVelo.com: University of Arizona bike sharing program from Mike McKisson on Vimeo.