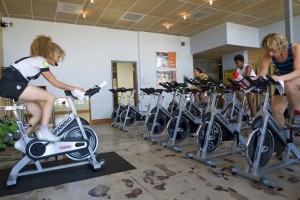 In December Susan Frank and Kurt Rosenquist decided to team up and share a rental space in downtown Tucson to house their businesses.
Frank runs O2 Modern Fitness, which features spinning, yoga and pilates classes and takes up the front of the building.
Rosenquist's FitWorks occupies the rear of the building where he offers clients professional bike fitting and coaching advice in addition to limited bike sales.
The couple said they considered opening their business somewhere else in the city, but ultimately decided they wanted to be downtown and selected a building at Broadway Boulevard and 5th Avenue.
"We both made the decision that even though it felt risky — and sometimes still does, to be downtown — and really try to support what is happening down here," Frank said.
Frank and Rosenquist said they didn't know how well the two businesses would work in the same space, but have been pleasantly surprised.
"There have been some magical moments," Frank said." I don't think we actually knew how this energy or magic would happen between the two businesses and it honestly just gets better and better."
Frank said some of her spinning clients became more interested in road cycling and decide to use FitWorks' services.
"On the flip side, Kurt will have some clients that come in and get excited about the other opportunities especially the pilates for cross training that can really help to enhance their bike rides," Frank said.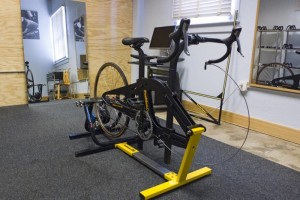 Rosenquist started FitWorks in 2008 after working in bike shops for more than 20 years. He said he became frustrated with the need to sell products like supplements when all someone really needed was pasta.
"There seemed like there needed to be some other type of business that was all about the cyclists' body, their performance, their comfort, their positions and training," Rosenquist said. "I really just wanted it to be a non-bike shop. Really just a studio where people could come in for consultation. From there I would send them to a local bike shop with a prescription of what is going to work best for them."
Rosenquist said his goal is to make cycling more pleasant for riders by focusing on their technique and position.
O2 Modern Fitness was an idea Frank had been mulling over for a while, but decided to go for it when her previous design business was bought out.
"I kept saying, 'Well maybe I should do a spinning studio slash yoga studio to bring the the two things that I am really becoming very fond of together," Franks said.
Frank who will often ride the Tuesday morning Fairwheel Bike Shop ride and then teach three spin classes later the same day, said she has seen a big difference in her own cycling because of spinning.
"Spinning classes have really taught me to how dig deeper because I don't have any distractions," Frank said. "It is just me and my bike and a coach."
"All of the classes that we have here are intensely built around road workouts," Rosenquist said. "You are doing it here where you don't have the distraction of a light or a potholes to worry about."
Frank said all of their spin instructors are cyclists or triathletes and bring that knowledge and experience to their classes.
"We are all really coming at it from the foundation of cycling," Frank said. "That is the root of what we're doing."
According to Frank, spinning gets a bad rap in the cycling community, but because of the connection to Fitworks some road cyclists start attending classes.
"Believe me it has been tough getting cyclists in here," Franks said. "They come though here to get a bike fit and they see us on the spinning bikes and they start to think maybe this is something I should consider adding to my training."
Franks purchased trainers to allow cyclists to bring their own bikes to the spin classes to allow them to train on the bike they will actually be riding in races.
Customers who pay for their first O2 Modern Fitness class receive a card good for a free week of classes to try out all the different spin instructors. Check out their schedule here.
According to Rosenquist and Frank, they also have plans to add a retail component to the businesses focusing on cycling apparel and shoes.
"We really feel like, in general, Tucson doesn't really have a great offering in those two categories," Franks said.
Check out the rest of the photos and a short video from one of Frank's spin classes.