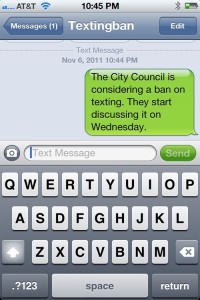 The Tucson City Council will begin discussions about a ban on texting and driving during its next study session on Wednesday.
The proposal, which was submitted by Karen Uhlich (Ward 3) and Steve Kozachik (Ward 6), seeks to make texting while diving illegal on City of Tucson streets.
Here is what the proposal says:
"A person shall not operate a motor vehicle on a street while using a personal digital assistant to send or receive a written digital message while the motor vehicle is in motion."
It allows for several exceptions including: law enforcement and emergency personnel, people with commercial drivers licenses who are working, public transit operators, someone reporting reckless or negligent behavior and communicating with someone during an emergency.
If a person is caught violating the ban but has not caused a crash, it would be a civil penalty of at least $100. If the texting was the cause of a crash, the fine would be at least $250.
According to the memo submitted by Uhlich and Kozachik, 34 states and the District of Columbia have banned texting while driving, but the Arizona State Legislature has failed to follow suit despite several attempts to do so starting in 2004.
In 2007, Phoenix instituted their own ban on texting while driving. As late as last year, the state legislature would not pass a ban on texting, which prompted officials to work on a local ban.
The memo states that the Tucson Pima County Bicycle Advisory Committee supports the ban, but BAC chair Ian Johnson said the committee hasn't taken a formal position and will discuss the issue at its meeting on Wednesday evening.
Some skepticism remains as to whether a texting ban will actually reduce distracted driving. Arguments have been made that people who want to text while driving will likely just make more of an effort to hide what they are doing, making it more likely they will pay less attention to the road.
A study last year by the Highway Loss Data Institute concluded that texting bans did not lower crashes when compared to surrounding states that did not have texting bans.
Enforcing the bans is another challenge.
What do you think? Should the city ban texting while driving and will it work?