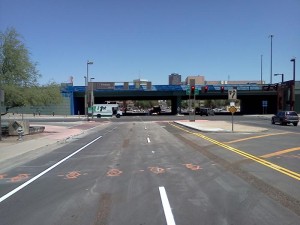 With the completion of a project on West Congress Avenue, the region is one step closer to having bike facilities from the Tucson Mountains to the Rincon Mountains.
The Congress and Broadway Boulevard corridor has only a few remaining sections without bicycle infrastructure.
"We are closing down the gaps," said Tucson's bike and pedestrian program manager Tom Thivener.
The gap closed down most recently was an area just west of the Interstate 10 underpass on Congress Avenue where a center island prevented the city from adding bike lanes when they reconfigured that section of Congress in September.
"This island was the barrier to fitting in bike lanes," Thivener said. "We'll be able to have continuous bike lanes through there now."
The city decided to go forward with the project, which required removing part of the island and reconstructing it because the street is closed to traffic while crews are repairing the water line.
"We had it on the list of things to do," Thivener said. "This was a perfect time to do this project because we wouldn't have to worry about traffic control. That probably saved a couple thousand dollars."
Thivener said if the streetcar project adds bike facilities like they have said they will, there will be only one more gap between Granada Avenue and Interstate 10 that needs to be to filled to have bike infrastructure along the entire corridor.
"We'll have continuous bike facilities from the Tucson Mountains on the west and the Rincon Mountains on the east within the urban area," Thivener said.
Here is the progression of construction: