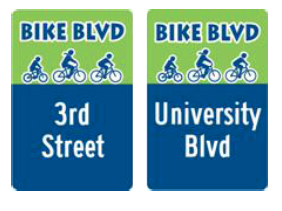 The City of Tucson is hosting an open house at Himmel Park Library tonight from 6-7:30 to talk about proposed improvements to the 3rd Street and University Boulevard bike route and creating an alternate route to avoid riding next to the streetcar on University Boulevard.
Tom Thivener, the City of Tucson bicycle and pedestrian program manager, said he will lay out the city's plan for upgrading the already popular bike route into an official bicycle boulevard spanning from Wilmot Road to Main Avenue.
Additionally, he will talk about creating an alternate bike route on Fifth Street, "from Old Main to Ninth Avenue as an alternative to riding on university, which will understandably be more complex with the streetcar."
Plus, he said, "The corridor is going to be under construction for a while, so we need this alternative anyway. "
Thivener said crossing Euclid Avenue will be accomplished by using the existing center island refuge as opposed to adding a bike crossing signal.
"[The refuge] functions now," he said. "It is pretty easy to cross. There is always a gap in traffic."
As for University Boulevard and Third Street, the city plans to use $90,000 in RTA funding to improve the corridor and make it an official bicycle boulevard.
They plan to add way-finding signs and pavement markings like the ones being used on the Fourth Avenue/Fontana Bicycle Boulevard. They will also improve various intersections, add traffic calming and put a bike crossing signal at Swan Road.
Thivener said he was aware that the pavement is poor on Third Street, but said the RTA money can't be used on neighborhood streets for pavement preservation.
"I know that it is a priority," he said. "We have done surveys out there and people said they want better pavement."
Even if the money could be used for that, he said, it wouldn't do much good.
"We'd spend the entire budget and not get very far," Thivener said.
Thivener said he is hoping to get feedback from people who utilize the corridor and live along it before the plans are finalized.

View Upgrades to 3rd Street and University in a larger map