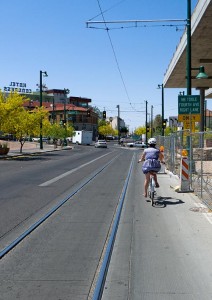 Tucson officials are set to announce they will be using a type of rail for the modern streetcar project that is generally considered more dangerous for cyclists.
For months, streetcar officials have been telling various cycling groups — including the Tucson Pima County Bicycle Advisory Committee — that they will use Block Rail, a new type of rail that has smaller gap that makes it harder for bicycle tires to slip in and drag a cyclist down. Recently however, budgetary and scheduling issues have prompted the streetcar team to revisit the rail type.
While the official announcement won't be issued until later in the week, several people involved in the project have confirmed there will likely be a switch to Tee Rail, which has a wider gap.
"Due to cost and schedule concerns it appears we may end up with Tee Rail," Jim Glock, Tucson's transportation director said. "We are struggling with how to address the bicycling community's concerns with respect to that."
According to an email from Glock, Block Rail costs 33 percent more than Tee Rail, which represents $3 million over the entire length of the streetcar route.
In addition, Glock said no one in the United States has actually started producing Block Rail and no one has any experience installing it, which presents risks to the streetcar's construction schedule.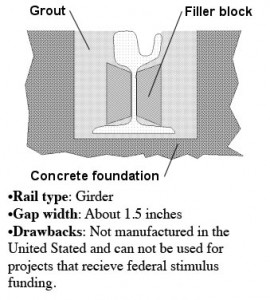 Ian Johnson, the chairman of the downtown subcommittee of the BAC, said he understands the need to complete the project on time without going over budget, but doesn't want to see cyclists' safety sacrificed.
"With as much public sentiment as there is against the streetcar, I can see why they don't want to take any chances with delays or cost overruns," he said. "I can totally understand it, I am very sympathetic. At the same time, as a bicyclist and as a BAC member I am really concerned about the implications."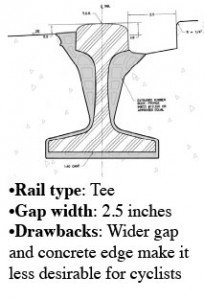 Tee Rail has already been installed in the Fourth Avenue underpass and along Congress Street and Broadway Avenue. According to a July 2010 police report, those tracks may have contributed to a motorized bike rider's death when he fell attempting to cross the tracks and was struck by a vehicle.
The project requires an American-made rail because it was awarded a federal stimulus grant, which includes a "buy American" clause. That prevented the team from using the European-made Girder Rail, which has the smallest gap of any rail type.
Matthew Taunton is a senior project manager for HDR who helped develop the streetcar's route before the engineering part of the project was handed off to URS.
He said Portland has decided to use Block Rail for their new streetcar line and that other cities will be looking toward that project. He said if it goes well, Block Rail will become the standard rail used for streetcar projects throughout the United States.
Mark Dorn is a Portland-based engineer for URS, the company doing the engineering work on Tucson's streetcar and is considered one of the country's experts on rails. He said said in a webinar on Wednesday that they won't be able to use the Block Rail he recommended for Tucson's streetcar.
"Just last week we were told that we can not use our recommended rail," Dorn said.
Taunton said in addition to the Tee Rail's gap being wider, one side of the track is concrete which poses additional problems.
"First of all, it is a wider gap than other rail types. And the concrete tends to chip away," he said.
The chipping of the concrete makes the gap even wider, making it more dangerous for cyclists.
Block Rail uses steel on both sides, which prevents the chipping.
Glock said they are "acutely aware" of the safety and maintenance issues associated with using Tee Rail and are looking into ways to narrow the Tee Rail gap. He said his engineers have told him they can narrow the gap to something similar to Block Rail and prevent the concrete from chipping.
According to Dorn's presentation, Block Rail's gap is 1.5 inches, while Tee Rail's gap is 2.5 inches, but there are methods to make the gap smaller.
Since he was told they couldn't use Block Rail, he is recommending the Tucson project use a piece of material that goes between the rail and the concrete to reduce the gap, but even that would still be wider than the preferred Block Rail.
Glock wrote in an email that he believes they can match Block Rail's gap width while using Tee Rail.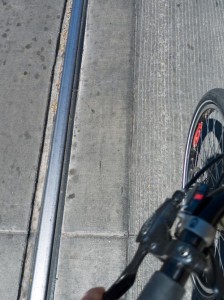 Johnson said the BAC's downtown subcommittee passed two motions at their last meeting expressing their "great concern" about the use of Tee Rail and directing the city to look at making routes along the streetcar line better for cyclists in other ways should the team ultimately decide to use Tee Rail.
"If in fact they — for whatever reason — go with the less optimal, less safe rail, we are going to ask them to really think about the priorities in the right of way," Johnson said. "Right now they are making sure there is room for the streetcar, they are making sure there is room for cars and they are making sure there is room for parking. We are really concerned that they are not really prioritizing bikes above parking. We are going to ask they take out parking to provide more room for bikes."
Taunton said even if Tee Rail is used for the project, it is going to be an improvement over the tracks that are currently on University and Fourth Avenue.
"That is part of the challenge with Tucson," he said.  "[Cyclists] look at what is in the street today, specifically the Old Pueblo Trolley Tracks and they think that Tee Rail that is used for that is what it going to be used for the streetcar, but it is really going to be a totally different environment. It is going to be much improved over what is there today."