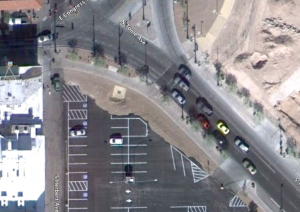 One of Tucson's most complicated intersections will be the subject of extreme scrutiny for the next two days.
Officials from the Arizona Department of Transportation are in Tucson performing a "Road Safety Assessment" of the intersection downtown where 4th Avenue, Toole Avenue and Congress Street meet.
The assessment is designed to be an inexpensive way for cities to get feedback on complicated stretches of road.
The collection of planners, engineers and light rail experts were invited by the City of Tucson to help determine what, if any, fixes could be made to the intersection to make it work better.
"It could be really good news for bicyclists," said Ian Johnson, the chair of the downtown subcommittee of the Tucson-Pima County Bicycle Advisory Committee. "It is sort of a free way for a city to get an outside opinion about an intersection and hopefully fix it."
Tucson's bike and pedestrian program manager Tom Thivener said he hopes the group will be able to help improve the intersection.
"I think everybody across the region agrees that this is an intersection worthy of improvement," he said. "I don't think we'll get too much resistance."
A motorized bike rider was killed riding through this intersection, last summer.
Gabe Thum, a senior planner with Pima Association of Governments, is heading up the safety assessment.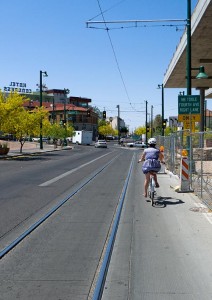 He said the group will spend Tuesday and Wednesday observing the intersection and how people use it. The group will walk the entire section, take measurements, and video tape the area while driving through it. He said he didn't think the group would ride bicycles through the area, but will pay special attention to issues facing bicycles and pedestrians.
On Thursday, they will make recommendations to the city about various improvements the city could make.
"Typically the recommendations are inexpensive fixes," Thum said. "They could say no to all of them or they could say yes to all of them. The truth is, they will probably do something in the middle."
After the recommendations are made, the city can seek funding though the state's safety fund to help implement the changes.
Thum said the safety assessments have a good track record.
"They have been shown to be very, very effective for reducing crashes where they are performed and where the recommendations are implemented," he said.
Check back with Tucson Velo to learn what the group recommends. In the meantime, do you have any thoughts about the intersection?