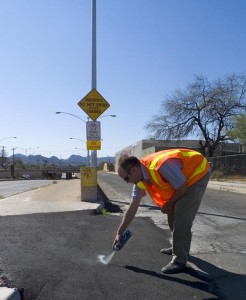 Cyclists trying to cross Interstate 10 will soon have another option available to them.
The City of Tucson is spending $1,000 to make crossing the interstate at Speedway Boulevard easier for cyclists by legalizing riding on the sidewalk underneath the train tracks on the east side of the freeway.
Tom Thivener, the city's bike and pedestrian program manager, said cyclists and the bicycle advisory committee have expressed interest in making the crossing better for bikes.
"They wanted to see it fixed so they have a valid facility going though there," Thivener said. "We measured it off and it is too tight to get bike lanes."
He said they watched people ride through the area and many cyclists were stopping getting off their bikes and hauling them up on the sidewalk. The city decided to make it easier to do that.
Construction crews have already added ramps on each side of the underpass as well as signs saying bikes can ride on the sidewalk.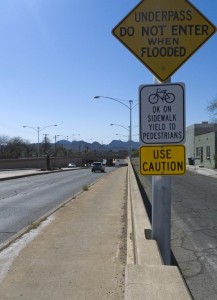 The city will also add 24-inch pavement markings to help guide cyclists onto the sidewalk from the bike lane.
The upgrade is a temporary fix since the intersection will be rebuilt in the next 5-10 years.
"It is a modest improvement that should make things a lot smoother for commuters who go through the underpass," he said. "The underpass can be a big barrier to bicycling. One way or another, people from the west side get funneled into the I-10 underpasses. There are only a couple that are really bike friendly. We are incrementally trying to make Speedway more on par with St. Mary's, which is probably our friendliest underpass."
The city's transportation director, Jim Glock, said in an email that he is going to have a truck go though ans clean the sidewalks, which are currently full of debris.
Check out the video below to see what the intersection looks like.
Have you ridden it what do you think?