The City of Tucson will soon be without a Bicycle and Pedestrian Coordinator.
Tom Thivener, the man who has filled that posistion for the last five years, accepted a position in Calgary, Canada.
Thivener said May 18, will be his last day with the City of Tucson. He will begin his new job heading up the bicycle division of Calgary's transportation department on June 4.
Thivener, who went to college in Canada said he had always wanted to return there.
"I hadn't been looking very hard, but this opening caught my eye and the opportunity to do some of the things I really want to do is available," he said. "They have the resources to get it done and the political will with an aggressive plan. Put it all together and lo and behold it is an opportunity I couldn't pass up."
He said Calgary has created an aggressive plan to add bike lanes, cycle tracks, bike boulevards and a bike share throughout the city, which has a footprint similar to Phoenix but much more dense.
He said right now there is practically no on-street bike infrastructure, but the planning stage has been completed and it's time to start implementing the bikeways.
"When it comes down to on-street facilities they really haven't done anything yet so it is kind of a blank slate," he said.
Thivener is leaving his position in Tucson at a time when he has seen 25 percent of his time shifted away from bicycle and pedestrian programs to other planning tasks, his improvement budget reduced to nothing and his staff assigned to other departments.
Ian Johnson, the Tucson-Pima County Bicycle Advisory Chair, said the loss of Thivener is a real blow to the city.
"We are going to miss Tom," Johnson said. "He has been a real inspiration for us. He has done so much good work bringing new kinds of facilities and expanding the possibilities for what we can do in our city."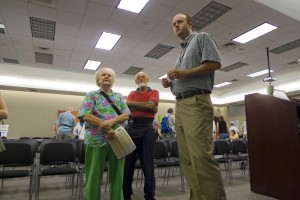 Johnson said the BAC would encourage the city to make replacing Thivener a priority in addition to pushing for more resources for the new coordinator.
"It will be a real challenge to make sure none of the projects he was working on will be dropped or delayed because of the lack of staffing," he said. "We certainly owe him a lot for the things he has been able to get done in the last five years."
Tony Paez the interim transportation director said they are taking the hiring very seriously and will miss Thivener.
"We are going to go national to recruit because this is a very key position and Tom was quite an asset for us," Paez said. "All the way up to the city manager's office it is felt. It is a big loss to the City of Tucson and the surrounding community."
Thivener said he enjoyed his time here and will miss Tucson.
"I've loved the challenges," he said. "I've never backed away from a fight. It has all worked to progress Tucson as a bike friendly community. We have a long way to go and we need to be a lot more inclusive for who we are designing for."
He said he is most proud of reinvigorating bicycle commuting in Tucson. He said before he came to Tucson the community was dominated by recreational riding and there was a belief that bicycle commuting wasn't realistic.
"I think we've broken down those barriers," he said.
He cited a more inclusive BAC that included biking families, younger people and utilitarian cyclists as evidence of that. He also said we are starting to see an increase in bike commuters around the city.
He said he has some regrets too.
"I think I regret not being able to complete more of the network of bike boulevards, Thivener said. "Clearly that is going to be the main tool to get more people cycling."
Thivener said Tucson has some big decisions ahead of itself.
"Tucson is definitely at a crossroads and the bike pedestrian program is just one small part of that," he said. "I am confident they will refill the position and progress will continue but there are bigger questions to be answered to determine Tucson's future."