Please check azstarnet.com for updates on Rep. Giffords status.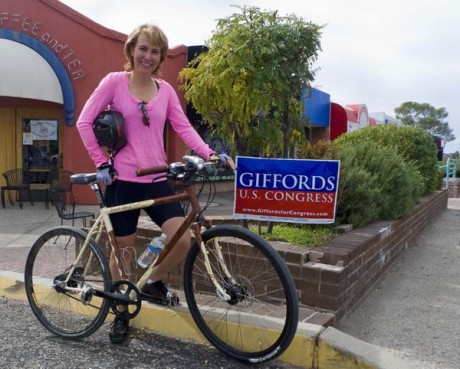 Editor's note: I ran into Congresswoman Gabrielle Giffords at a local coffee shop where she was having breakfast with her husband after they biked around the city. I attempted to set up a time to chat with her about bikes but she suggested we talk right then. Here are some of her thoughts about bikes. I have an interview request in for her challenger, Jesse Kelly.
Their Saturday morning ride:
Giffords says she and her husband, NASA astronaut Mark Kelly, rode from their home in midtown Tucson, north to the Rillito bike path, where they stopped at St. Phillips Plaza for the Saturday farmers market, then took Mountain Avenue south to Speedway and stopped at Bentley's House of Coffee and Tea near the University of Arizona. They said they would head west on 3rd Street to return home.
How bicycles fit into transportation:
Giffords says bicycling is a critical part of urban infrastructure. She says she biked a lot while getting her Master's degree in planning at Cornell and that bike and pedestrian planning is an important part of urban planning.
She loves that Tucson is a top-10 biking city and that the city makes bicycling a priority. Giffords says she supports all types of alternative transportation from bike infrastructure to projects like the modern streetcar.
Motorists vs. cyclists:
Giffords says when her friend Chris Nakamura was killed by a motorist who received only a citation for the crash, it was a huge realization that the laws needed to change. When she was in the state legislature she worked to make the penalties stiffer for hitting a cyclist.
Giffords says she tends not to ride on busy streets because she doesn't enjoy the cars and the fumes they produce. She also wears bright clothes, a helmet and uses lights to help keep her safe.
Giffords says raising awareness among motorists also helps keep cyclists safe. Popular figures like Lance Armstrong raise everyone's awareness about bikes and help motorists realize cyclists are on the road. As cycling becomes more popular, it raises the awareness level of everyone else on the road.
Giffords says she'll yell at motorists who pull out in front of her or cut her off when she is on her bike and but says most of the time they don't mean to do it, they are in their own world and aren't looking for cyclists.
Giffords is riding a custom bike made by local builder Dave Bohm of Bohemian Bicycles. Her bike features a western paint job with her name in rope on the top tube and an Arizona flag.
Other places they ride:
Giffords rides her bike from her home in Washington D.C. to the capital building. She says the ride is breathtaking and inspiring. Giffords says her husband rides some in Houston, where he lives, though the city is not bike friendly at all. Kelly said he rode a stationary bike a lot on the space station.