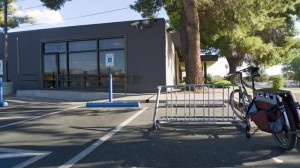 The Tucson City Council unanimously approved changes to the bicycle and motor vehicle land-use code at their meeting last night.
The meeting had a very different tone than two weeks ago when bike advocates and developers were at odds about the number and location of bicycle racks.
At the meeting last night, however, both developers and advocates urged the council to pass the the new rules and praised the process.
Tucson-Pima County Bicycle Advisory Committee and Living Streets Alliance member Kylie Walzak participated in the meeting last week that led to the consensus on the bicycle parking issues. She told the council last night that she is relatively new to the public process, but was impressed with the dedication, thoughtfulness and civility displayed in creating a code that both cyclists and developers could be happy with.
Developer and member of the land use committee, Jason Wong, echoed Walzak's sentiments and said he was happy with the new code and urged the council to pass it.
In addition to the new bicycle parking rules, the code will also reduce the required number of automobile parking spaces, which is why Councilwoman Regina Romero said it was so important to make sure customers could access businesses using alternate transportation modes like bicycles.
While the battle over the proposed changes largely focused on preventing the land use committee from weakening the existing rules already in place, some improvements were added into the code. Developers will be required to space the racks out in shopping centers with multiple businesses. The code also adds additional options for long-term parking that might better utilized than bicycle lockers.
City staff stressed that the new code only affects new developments and not existing businesses.