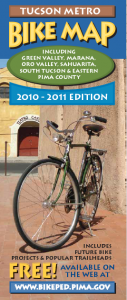 Pima County released the 2010-2011 Tucson Metro Bike Map, yesterday.
The update includes new routes which were added since the map's last update in September 2009. This year the map creators added two additional features.
Zoll said they added a few dirt paths to map, which he said not everyone can ride, but they make great connections to other bike routes.
"There are only a couple on there right now and they are less than a quarter to a half mile long," Zoll said.
Also new this year is highlighted bike routes. Popular bike routes like Mountain Avenue, Catalina Highway, and Third Street are highlighted by utilizing double lines rather than a single line for less popular routes.
According the Matt Zoll, Pima County's bike and pedestrian program manager, he and his office work ask other governments in the region to send them a list of construction projects they plan to start in the next year and whether anything on the map needs to be changed.
Road construction and improvement projects are indicated on the map with dashed lines, which Zoll said are projects that should start within the year.
Zoll said they don't have specific start dates for any of the construction projects and warned that riders may encounter construction zones at any point in the year.
According to Zoll bike boulevards are not included on the map because the city didn't want them included until they are complete, but once they are, they will have their own special designation.
Also not on the map are the locations of specialized bike and pedestrian crossing signals, although they considered adding them to the map.
"I'll tell you what," Zoll said. "When you have 85 HAWKS  or so in the region it became very cluttered. That has always been a struggle with the map. 'What do you show and how much of it,'" Zoll said.
Download the map in two separate pages on Pima County's website or download a combines PDF here.