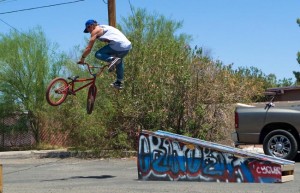 Dozens of young BMX riders and their families turned out to celebrate the one-year anniversary of BMX-centric bike shop Craycroft Cycles on Saturday.
But for many of the kids who attended the celebration, enjoyed the BBQ, cake and game of BIKE  (think basketball's HORSE on two wheels) Craycroft Cycles, 5941 E 22nd St., is more than a bike shop and Jim Grabill is more than its owner.
Jesse Erickson, 15, said he comes to the shop almost every day to do chores in exchange for bike parts.
"It keeps me out of trouble," he said. "I stay away from smoking and stuff."
Grabill said he has bigger plans for Erickson than just keeping him out of trouble.
"One of my biggest goals for Jesse is to get his butt through high school," Grabill said. "If that means setting up bikes and wheels as incentives then that is what I'll do. My daughter tutors him here at the shop."
It's kids like Erickson that Grabill said inspired him to open the shop. Grabill is a licensed therapist and has been working with kids for 30 years and he wanted to combine his love of BMX bikes and helping kids.
Grabill raced BMX bikes when he was growing up and passed the BMX bug down to his son and daughter who both raced. For several years he said his daughter was ranked No. 1 in the state and No. 9 nationally.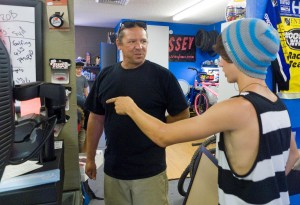 Originally he wanted to open a vocational rehab center where kids who were in alternative high schools could get experience working on bikes in exchange for credit at their schools.
Because of zoning issues with the city, Grabill couldn't make it work so he decided to open a retail store instead. The shop focuses mostly on BMX bikes and parts, but also sells beach cruisers, stretched limo bikes, extreme mountain bikes and trick scooters.
While being able to pay his bills and employees is critical, he also sees the shop as having other missions.
"One is keeping a lot of these kids in a kind of barbershop environment where 10 or 12 kids are at the shop hanging out that would otherwise be out on the streets doing things that they probably shouldn't be doing," Grabill said.
Steve Hammond has been hanging out at Craycroft Cycles almost since they opened. To him it is more than just a business.
"It's almost like a little family," Hammond said. "Everyone that is there is real close. It's not like a business almost. You could almost come hang out any day you want. The people that are in it, they are all good people. Jim is one of the best people around."
As for Erickson, he said he will graduate early from Canyon Rose High School.
What is a game of BIKE?
The game BIKE is very similar to the game HORSE in basketball. A rider will perform a trick and then the next rider playing must repeat the trick. If they don't land it, they get a B. If they miss four tricks and spell BIKE, they are out of the game. The last rider standing is the winner.
Check out the photos from the celebration: