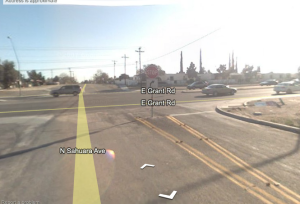 The cyclist killed in a crash on Grant Road had a significant amount of alcohol and marijuana in his system at the time of the crash a Tucson Police Department spokesman said.
Matt Ronstadt wrote in an email that the results from an autopsy show John T. Imberg's blood alcohol content was .24, well above the .08 limit for operating vehicles in the state.
Additionally he said Imberg also had a significant amount of marijuana in his system.
The autopsy did not indicate any sort of medical condition that could have contributed to the crash.
Imberg, 59, was struck when he failed to stop at the intersection of Sahaura Avenue and Grant Road. He was struck by two cars. Imberg was taken to UMC where he was pronounced dead an hour later.
According to a previous report his bike had brakes, but police could not tell if they were working.