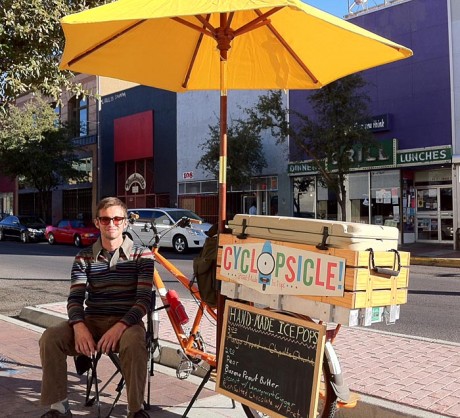 The food truck craze that has been popping up across the county is hitting its stride in Tucson and as of last week is no longer limited to the four-wheel-fossil-fuel-burning variety.
Gus Coliadis launched Cyclopsicle, a bicycle popsicle stand, last week and is selling his creative treats at the corner of Scott Avenue and Congress Street from 11 a.m. – 6 p.m. most days.
He got the idea for a popsicle stand after visiting one in North Carolina. The bike side of the business was a no-brainer.
I was pretty determined to open a business run by a bicycle," Coliadis said. "I thought that would be a great idea for myself because I ride a bike most of the time and I am not a big fan of driving anyway. It just made sense to me."
He said his mobile popsicle stand is built off of a Yuba Mundo, which he purchased from Ordinary Bike Shop and he designed a box to carry the cooler, which his father built. He's also added a holder for an umbrella to keep the sun off.
As for the timing of his opening, he said he wanted to open in May, but the permits didn't come through until now.
Coliadis said popsicles are a great way to deliver unique flavor combinations. He said he plans to change the flavors every week or so to figure out which flavors people like and keep people interested in trying new ones.
You can "like" Cyclopsicle on Facebook to find out what his flavors are and where he'll be setting up as he plans to do events and will be participating in the Tucson Foodtruck Roundup on Monday.