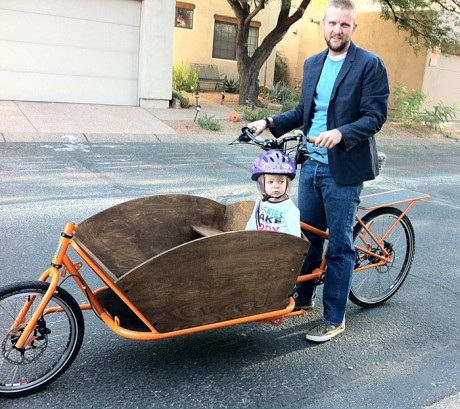 There is no doubt I am not as recognizable as Bill Walton and Barry Bonds, but my bike might be.
If you are on the route Saturday, look for the big orange cargo bike lumbering down the road.
Last year I was fortunate enough to ride with El Grupo, but life, work and this website prevented me from being able to properly train to ride the 111 miles with them. I'm really disappointed by that, but I figured I would do the next best thing.
My friend Art and I are going to represent cargo bike owners and transportation cyclists during Saturday's El Tour de Tucson. He'll be riding his Big Dummy cargo bike and I'll be riding my CETMA bakfiets.
We won't be in spandex and we won't be on our race bikes, we won't be going fast, we won't be drafting and we won't be competitive. We will be having fun and hopefully showing people that bikes can be used for transportation too.
We are registered for the 42 mile ride and will have a cooler with soda, a radio for music and big smiles across our faces.
For much of the ride, I'll be solo, but have plans to pick up my co-pilot for the last few miles and while I will be spandex free, she'll be wearing this, because it was just impossible to pass up the one-piece world champion suit.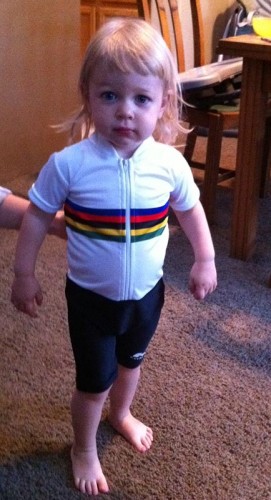 Because we'll be going slow and stopping a lot, I'll tweet from the road. I'm expecting lots of comments from other riders and will share what they have to say about my bicycle choice. I'll also include photos like the pickup truck we are borrowing to haul our bikes to the start line. Check the site Saturday for the tweets that will be embedded in the site.
I've done something similarly absurd by pedaling my Big Dummy up Mt. Lemmon and tweeted about it. Check it out.