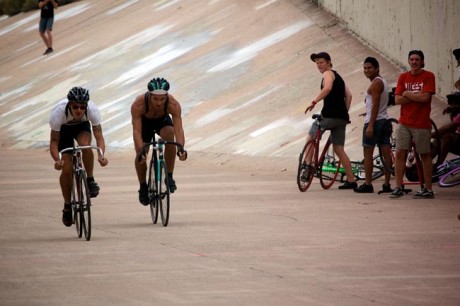 Tucsonans took first and second place in the High Noon Fixed Gear Match Sprints on Saturday that featured 28 racers from around the state competing for cash and prizes.
The 28 riders were narrowed down to 16 based on a 200-meter time trial and then competed head-to-head in 400 meter sprints. The winner moved on, the loser was done for the day.
In the end, Ron Stanage won each of his races and became the sprint champ.
The race was organized by Aaron Passmore, one of the leaders of the Tuesday Night Fast Fixed Gear group that has led more than 80 rides since its inception.
He said he was pleased with the outcome. The races were great, no one crashed and the cops didn't come.
Check out the photos and video from the race:
Check out the finish from every race to see how close they actually were.

More photos here.