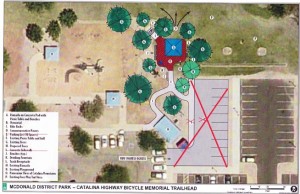 A proposal by Pima County to further develop a section of the urban loop with money intended for a memorial trailhead is not going to happen.
After much controversy and an eventual total stoppage of the Brad Gorman memorial trailhead, the county's transportation department was hoping to keep the funds within their jurisdiction.
Pima County would prefer to use the money to fund a section of the Loop along the Rillito between Craycroft and Sabino Canyon Roads, transportation director Priscilla Cornelio said at the Sept. 14 Tucson Pima County Bicycle Advisory Committee meeting. The memorial element could be moved to downtown's Bike Church, Cornelio suggested.
Brad Gorman was beginning a ride up Mt. Lemmon on Sept. 30, 1999 when he was killed by a driver who struck him from behind.
The $80,000 dollars at stake wouldn't be enough to get actual construction underway on that stretch of the Loop, but would pay for planning studies and initial engineering assessments, Cornelio said.
Cornelio expected crews could potentially begin work on that section of the Loop in a year or two after a current freeze on Regional Transportation Authority dollars had been lifted, if the money was permitted to be used for that purpose.
A request sent Sept. 29 by the RTA's transportation services director Jim DeGrood to the jurisdictions within the group effectively stops any moves to keep surplus money or savings made on projects.
Specifically, that means the county will not be able to keep the $80,000 that was going to the Gorman memorial trailhead for loop improvements, DeGrood said.
DeGrood's request asks for excess dollars saved on projects be sent back to the RTA fund, where it will be reallocated based on the RTA working group's recommendations.
Getting the excess funds back into the RTA's pool will ensure a transparent process, DeGrood said.
"We need to be watching these monies to make sure the best projects come to the top," he added.
DeGrood said this request will allow him to close the books on open projects and make money available for new ones.
The request is asking all the RTA players to have identified their savings and have a list of projects they'd like done by Oct. 31. DeGrood said ideally construction on some these projects could begin July 2012.
Cornelio asked for the bicycle committee's endorsement on the proposal because it would deviate from the standard RTA practice of sending back unused dollars to the region's pot as a whole.
The BAC moved to send the proposal to a subcommittee, which recommended that the existing practice of transferring unused project funds back to the RTA be maintained, BAC chair Ian Johnson said.
Johnson felt giving the nod on this special request would create "perverse incentives" and perhaps set a dangerous precedent.
"We felt they could use the money for whatever they wanted," Johnson said.
The subcommittee will have their recommendations voted on by the BAC on Oct. 12.
The RTA is empowered by laws set forth by a voter-approved plan. Part of those laws includes defining transportation projects by what they're intended to do.
Each project gets assigned to a category that describes what it will accomplish. Many bicycle-related improvements fall under a couple of these categories.
The $80,000 set aside for the Gorman memorial trailhead came from money used on a Tanque Verde School District project, DeGrood said.
The intent for those dollars was defined as "elderly and pedestrian safety."
Using those funds to improve the urban pathway wouldn't match what it was designated for.
"I don't know if I could categorize some loop improvement as fitting that need," DeGrood said. "It's a stretch."
GORMAN TRAILHEAD UPDATE
Although plans to build an official spot for cyclists wanting to trek up Mt. Lemmon have been stopped, Jean Gorman is moving forward with memorializing her son.
She says she wants to move the 180 memorial pavers donors paid for as part of the trailhead project to be installed at the Bike Church, near Main Avenue and 6th Street.
After nearly 12 years of work on getting a space carved out along Catalina Highway that would give cyclists a place to park and ride, Gorman says she feels terrible about how it turned out.
Pima County Supervisor Ray Carroll canceled a public meeting on the concept in 2010. Neighbors in the area had concerns of additional crime and light pollution brought in by such a facility.
Gorman's suit against Pima County for the $30,000 she invested into the trailhead is continuing.