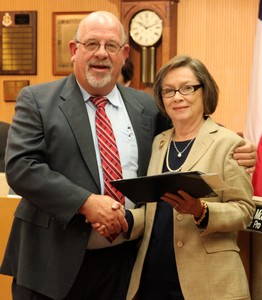 People who have worked with Tucson's new transportation director Daryl Cole say the city is in good hands even if you walk and bike.
Two people who have worked with Cole responded by email about what cyclists and pedestrians should expect with him at the helm. Here's what they had to say.
Marty Boyd, an avid cyclist and a Texas transportation employee, said she has worked with Cole a lot. El Paso was working on a smart growth plan and finally got it approved and ready to implement. El Paso is also working on a bicycle plan.
Here's what Boyd had to say:
I can't speak for the City, but my experience with Daryl has been a pleasure.

I was really looking forward to seeing the plan implemented and Daryl was the person perfect to execute that.

Sad to see him go, but I know Tucson is getting a wonderful Transportation Director, willing to work with all types of transportation and one of his many talents is being able to bring agencies and communities together and get the job done.
Ted Marquez was Cole's deputy transportation director in El Paso:
Mr. Cole has gone through the training and is an accredited member of The Congress for the New Urbanism (CNU) which places an emphasis on creating walkable, sustainable development.

For years Mr. Cole has been an advocate of incorporating bicycle lanes, trails and bike and hike lanes in City projects. He has also been constructing sidewalks, pedestrian paths and removing accessibility barriers on all projects under his purview.

Bottom line I believe that Tucson has hired a very well rounded Transportation Director.