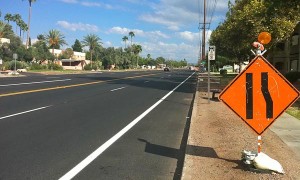 Add Ft. Lowell Road to the growing list of federally funded resurfacing projects in the Tucson region.
The city recently finished repaving Ft. Lowell Road, from Country Club Road to Oracle Road, and narrowed the travel lanes to provide a wider shoulder for bikes.
According to City of Tucson traffic engineer Diahn Swartz the goal was to provide six-foot shoulders east of 1st Avenue. Due to a mistake by the contractor, the shoulder is actually wider in some areas. Swartz said they decided to leave them as they are.
To make the wider lanes happen, Swartz said they narrowed the travel lanes to 12 feet.
"The lanes did narrow, but they are sufficiently wide in their new condition," Swartz said.
The repaving isn't completely finished because different crews are working on the intersection at Campbell Avenue and Ft. Lowell.
Swartz said the crews will add the shoulder when they finish the intersection improvement.
According to Swartz, they used computer models to test adding shoulders to the section of Ft. Lowell between Stone and Oracle Roads, but Swartz said they couldn't fit the shoulders in.
She said she wasn't comfortable adding sharrows to that section because the markings are so new.
"The fact that sharrows are brand new tells me I want to use caution and not just throw then down," Swartz said.
Swartz said they tried to leave the right lanes as wide as possible so bikes and cars could share the lane.
Check out the video below to see what the new pavement and shoulders look like.