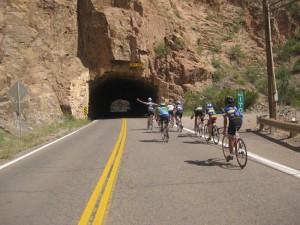 The Greater Arizona Bicycling Association announced yesterday that the Blue Loop Bicycle Tour  had been cancelled this year due to low ridership.
GABA ride organizer James Harms said 29 people were registered for the ride compared to the 89 who rode last year. The 89 who rode last year was still down from previous years.
"It was looking to create a significant loss," Steve Bresler GABA's vice-president  said.
Bresler said the board considered taking a loss on the ride in order to keep it going, but ultimately the group decided they need to exercise financial responsibility and cancel the ride.
The group also organizes the Trail of the Mountain Spirits ride scheduled for the same Sept. 1-3 dates.
Bresler said the financial hit for forging ahead with the Blue Loop was greater than continuing with Trail of the Mountain Spirits ride so the group will continue trying to promote  the Trail of the Mountain Spirits ride.
Harms wasn't sure how many years the Blue Loop tour had been supported by GABA, but said he though it had been going on for at least the last eight years.
In the announcement, GABA requested people who intend to participate in their rides register earlier. The group is also looking into why ridership has been declining to see what they can do to entice people to join their supported rides.
Learn more about the Trail of Mountain Spirits ride here.
What do you think? Why do or don't you participate in GABA rides? Leave a comment.