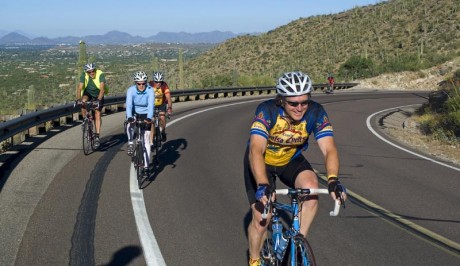 The Mt. Lemmon Hill Climb is scheduled for this Friday morning, but for a brief time it looked like it might not happen at all.
Pima County officials and the Sheriff's office  placed new demands on Greater Arizona Bicycling Association, the ride organizers who have put on the ride for the last 28 years.
The demands included raising the amount of insurance from $1 million to $3 million.
GABA president Jim Harms said the increase in insurance would have cost the group an extra $1,000, essentially meaning they would lose money on the ride.
Harms said the county and GABA compromised on $2 million of insurance, an earlier start time and slightly new route to avoid conflicts between cyclists and students driving to Sabino High School.
In an email from GABA, the group warned that they expect Pima County Sheriff's Department to have several officers along the route ensuring cyclists are obeying traffic laws including stopping at stop signs.
The ride starts between 5:30 and 7 a.m. depending on your expected speed up the mountain and costs between $10 and $20.
Check out all the ride details on their website.
The ride is a great way to make it to the top of Mt. Lemmon if you've never done it before. Not having to worry about the logistics of water and snacks makes it much easier.
Last year, I rode my Xtracycle up the hill. Check out the report here. This year, unfortunately, I won't make the ride because I have a graduation ceremony to attend on the same day.