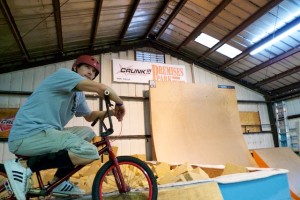 The indoor BMX park that grew out of frustration with the city's lack of parks for BMX riders is being forced to move.
Ian Abbot, the creator of Premises Park — a non-profit organization, said there are certificate of occupancy and zoning issues with the old space. He said he hasn't been able to get a clear answer from the ciyt about what needs to be done to fix the issues.
For that reason and the fact that the park has outgrown the current building, Abbot said they decided to invest in a new, larger space in downtown Tucson.
Premises Park will relocate next to Rocks and Ropes at 330 South Toole Avenue.
Abbot said they will close the original park after Saturday's session and hope to reopen in the new space around June 1.
Jim Grabill, owner of Craycroft Cycles, opened a second shop in the lobby area of Premises Park and has been thrilled with the way it has been going so far.
He said he is a little concerned about the lack of foot traffic at the new space, but is hoping some bike riders going to Rocks and Ropes will stop in for parts.
Craycroft will remain open at the old location until the new Premises Park is open.
Check out the images from the old location: