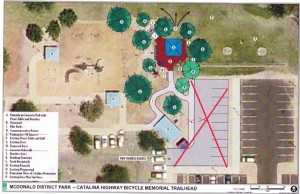 Cycling advocate Jean Gorman, the mother of a cyclist who was killed along Catalina Highway, wants Pima County to return more than $20,000 of money she gave the county to help develop a memorial trailhead along Catalina Highway.
Martha Lemen, a Tucson-Pima County Bicycle Advisory Committee member and chairwoman of a group tasked with working with the various groups involved, said at Wednesday's T-PCBAC meeting that Gorman has filed a notice of claim to get her money back.
Lemen said it appeared the alternate McDonald park location was no longer being considered, which may mean the project isn't going to proceed.
Pima County's bicycle and pedestrian program manager Matt Zoll said he couldn't comment on the trailhead or Gorman's lawsuit.
Check out all the past stories about the trailhead and look for more on this story soon.
Quick notes:
• Pima County Deputy Ryan Roher said he received a call on Sept. 25, from a motorist who complained about the shootout riders taking a whole lane and not being able to pass the pack. When he visited the location he noticed that the shoulder was full of weeds and rocks, which would prevent cyclists from using it. He asked the Pima County Department of Transportation to clean the shoulder up.
• Tucson Police Department motorcycle officer Jerry Skeenes said that since the police addressed the Tuesday Night Bike Ride, there haven't been any 911 calls about the ride.
• The committee took up a motion to require businesses to serve cyclists in the drive thru. The motion failed to pass with five supporting the motion and five against. Three members of the T-PCBAC abstained. The committee asked the city and county representatives to determine whether it was something that could be enforced since the businesses are on private property.
• The BAC began talking about safety concerns related to the trolley tracks throughout the city. The committee discussed making a motion pulling support for the modern streetcar project because safety precautions for cyclists had not been included in the project. Tom Thivener confirmed streetcar representatives would be present at the November BAC meeting to discuss the project. Committee members decided to postpone the discussion until then.