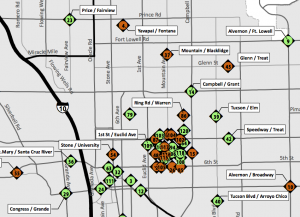 Pima Association of Governments' planner Ann Chanecka is looking for more bike-count volunteers.
Counters will be stationed at 100 different locations throughout the region. Download the map to see where counters are still needed.The map will likely change over the course of the next few days as more counters are added.
The first of two training sessions is tonight at 6 p.m. at the Ward VI office located at 3201 E. First St.
Download the flier for more information or contact Ann Chanecka (792-1093) at  if you have questions or want to volunteer.