The worlds biggest cycling event starts tomorrow and each year people who don't have access to cable scramble to figure out how to watch the race.
This year, I am among that group that doesn't have cable. We dropped our DirectTV service this week, but options for viewing the stages abound.
Here is how you can watch each of the stages:
The tastiest option: Ghinis French Caffe owner, Coralie Satta, told me on Twitter that they planned to show the Tour de France each day on their flatscreen television. The broadcast starts at 5 a.m. (COX & Comcast) and 6 a.m. (DirectTV) each day, but Ghini's doesn't open until 6:30 a.m., which means you'll miss a few minutes.
Each of the Sundays Saturdays during the Tour de France, There and Back Bike Shop is organizing a ride to Ghinis to watch the race and have breakfast. Check out the poster below for more information about the ride.
Ghinis is located at 1803 E. Prince Rd. (northwest corner of Campbell and Prince)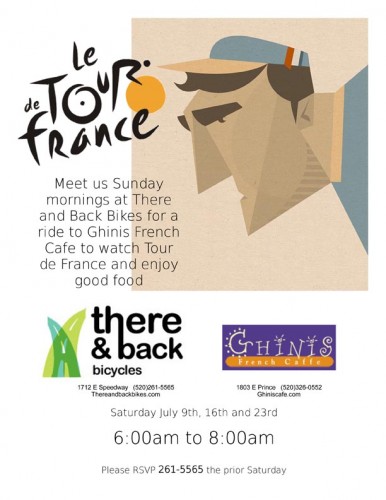 The priciest option: This year NBC is hoping to make the most out of their Tour de France coverage by offering an online viewing package called Tour de France All Access.
The pass costs $29.95, offers live HD broadcasts of every stage and can be paused and rewound. The pass also includes online-only analysis, live GPS tracking using an interactive map and a feature that allows you track your favorite riders throughout the race.
Subscribers will also have "On Demand" video. Meaning you can watch any of the stages after they have been completed.
NBC also has a mobile app for All Access viewers.
Get more information and sign up here.
The cheapest option: The free 2011 Tour de France Dashboard on Steephill.tv. The Steephill dashboard contains race information, previews, live video, race results and photos.
The live video may have commentary in languages other than English.
Other options: TriSports.com will also be playing the Tour de France in their retail store.
Will you be watching the Tour de France? If so how will you watch it? Any other tips for watching the race without cable? I'm planning to try the all access pass.
Here is the television schedule (All times are eastern. Check your cable provider's schedule to verify start times)
| | | | | |
| --- | --- | --- | --- | --- |
| DATE | STAGE | LIVE ON VERSUS | RE-AIRINGS | COURSE |
| Saturday 7/2 | Stage 1: Passage du Gois La Barre-de Monts to Mont des Alouettes Les Herbiers | 8 a.m. | NBC: 2 p.m.; Versus: 12 p.m., 3:30 p.m., 8 p.m., 9:30 p.m., 12 a.m., 1:30 a.m. | Plain |
| Sunday 7/3 | Stage 2: Les Essarts to Les Essarts | 8 a.m. | NBC: 3 p.m.; Versus: 12 p.m., 4:30 p.m., 8 p.m., 9:30 p.m., 12 a.m., 1:30 a.m. | Team Time Trial |
| Monday 7/4 | Stage 3: Olonne-sur-Mer to Redon | 8 a.m. | Versus: 12 p.m., 2:30 p.m., 8 p.m., 12 a.m. | Plain |
| Tuesday 7/5 | Stage 4: Lorient to Mur-de-Bretagne | 8 a.m. | Versus: 12 p.m., 2:30 p.m., 8 p.m., 12 a.m. | Plain |
| Wednesday 7/6 | Stage 5: Carhaix to Cap Frehel | 7:30 a.m. | Versus: 12 p.m., 2:30 p.m., 8 p.m., 12 a.m. | Plain |
| Thursday 7/7 | Stage 6: Dinan to Lisieux | 8 a.m. | Versus: 12 p.m., 2:30 p.m., 8 p.m., 12 a.m. | Plain |
| Friday 7/8 | Stage 7: Le Mans to Chateauroux | 8 a.m. | Versus: 12 p.m., 2:30 p.m., 8 p.m., 12 a.m. | Plain |
| Saturday 7/9 | Stage 8: Aigurande to Super-Besse Sancy | 8 a.m. | Versus: 12 p.m., 2:30 p.m., 8 p.m., 12 a.m. | Medium Mountains |
| Sunday 7/10 | Stage 9: Issoire to Saint Flour | 8 a.m. | Versus: 12 p.m., 2:30 p.m., 5 p.m., 8 p.m., 12 a.m. | Medium Mountains |
| Monday 7/11 | Rest Day: Le Lioran Cantal | | Versus: 8 a.m., 11:30 a.m., 3 p.m., 8 p.m., 12 a.m. | |
| Tuesday 7/12 | Stage 10: Aurillac to Carmaux | 8 a.m. | Versus: 12 p.m., 2:30 p.m., 8 p.m., 12 a.m. | Plain |
| Wednesday 7/13 | Stage 11: Blaye-les-Mines to Lavaur | 8 a.m. | Versus: 12 p.m., 2:30 p.m., 8 p.m., 12 a.m. | Plain |
| Thursday 7/14 | Stage 12: Cugnaux to Luz-Ardiden | 6:30 a.m. | Versus: 12 p.m., 2:30 p.m., 8 p.m., 12 a.m. | High Mountains |
| Friday 7/15 | Stage 13: Pau to Lourdes | 8 a.m. | Versus: 12 p.m., 2:30 p.m., 8 p.m., 12 a.m. | High Mountains |
| Saturday 7/16 | Stage 14: Saint-Gaudens to Plateau de Beille | 6:30 a.m. | Versus: 12 p.m., 2:30 p.m., 8 p.m., 12 a.m. | High Mountains |
| Sunday 7/17 | Stage 15: Limoux to Montepellier | 8 a.m. | Versus: 12 p.m., 2:30 p.m., 8 p.m., 12 a.m. | Plain |
| Monday 7/18 | Rest Day: Departement de la Drome | | Versus: 8 a.m., 11:30 a.m., 3 p.m., 8 p.m., 12 a.m. | |
| Tuesday 7/19 | Stage 16: Saint-Paul-Trois-Chateaux to Gap | 8 a.m. | Versus: 12 p.m., 2:30 p.m., 8 p.m., 12 a.m. | Medium Mountains |
| Wednesday 7/20 | Stage 17: Gap to Pinerolo | 8 a.m. | Versus: 12 p.m., 2:30 p.m., 8 p.m., 12 a.m. | High Mountains |
| Thursday 7/21 | Stage 18: Pinerolo to Galibier Serre-Chevalier | 7 a.m. | Versus: 12 p.m., 2:30 p.m., 8 p.m., 12 a.m. | High Mountains |
| Friday 7/22 | Stage 19: Modane-Valfrejus to Alpe-d'Huez | 8 a.m. | Versus: 12 p.m., 2:30 p.m., 8 p.m., 12 a.m. | High Mountains |
| Saturday 7/23 | Stage 20: Grenoble to Grenoble | 8 a.m. | Versus: 12 p.m., 2:30 p.m., 8 p.m., 12 a.m. | Individual Time Trial |
| Sunday 7/24 | Stage 21: Creteil to Paris Champs-Elysees | 8 a.m. | Versus: 12 p.m., 5 p.m., 8 p.m., 12 a.m. | Plain |