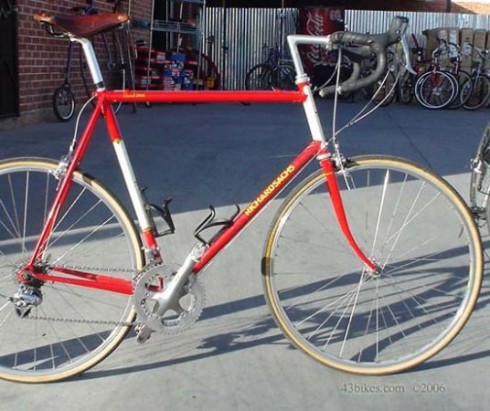 Several weeks ago I posted a stolen bike report for Greg Yares who organizes the GABA bike swap two times a year. His Richard Sachs road bike was stolen from his house and a beater mountain bike was left in its place.
I heard that he got his bike back and emailed him. Here's what he said transpired and how he got it back.
I filed a police report, turned in the beat up Schwinn mountain bike left behind by the thief to TPD as evidence, put the photo posts on craigslist and Tucson Velo and whined like a baby to everyone who would listen.

The bike was taken on Sunday night, July 1 and on July 8 , I got a voice mail saying that  it still might still be mine. A Tucson Police officer, James Davis, who is also a cyclist, so he knows bicycles, saw the  craigslist ad with the photo on Tuesday or Wednesday  and remembered stopping a known burglar the night it was stolen, riding my bike.  He didn't know it was stolen at the time, but he recognized that it was a special bike, that it was 10cm too big for the rider and that this particular guy  on a Brooks saddle didn't make sense . The officer  took the guy's info and told him that if the bike was stolen, that he'd better not sell it, or he'd be facing felony charges for trafficking  in stolen goods.

The officer called me on the evening of July 8 and left a voice mail telling me that he saw the craigslist post and  thought that he knew where my bike was, asking me to call him back.  I talked with him on July 9, gave him the police report number and I guess with that, he was able to go get the bike back, although the burglar wasn't there when he retrieved the bike.

My bike was waiting for me at the TPD evidence yard.  It had been monkeyed with in such a way that I think that the thief is pretty skilled with bikes. He changed the seat post, but kept and properly adjusted the Brooks saddle, changed the pedals to plastic platforms, changed out one of the bottle cages, customized the seat height and set back, lowered the stem, tilted up the bars and canted the brake/shifters in for his comfort.

I'm glad that I called the cops and had the police report number, that I put it on craigslist and Tucson Velo and that I was lucky enough that the Tucson Police Department, and especially officer James Davis, is on the job.

There was a craigslist posting regarding the recovery of my bike, most likely done by someone at TPD, reminding folks to do all of the steps, (1) file a police report,(2) post with a picture on craigslist and (I add) post on Tucson Velo, if they want to have any chance of recovering their stolen bike.
It's great that Yares got his favorite bike back. Be sure to check out the stolen bike resource page for info about how to prevent your bike from being stolen and what to do if it is.