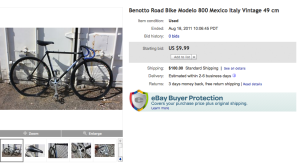 The bulk of the story of how Tucson Velo reader Samantha Sais got her stolen Benotto track bike back takes place in Phoenix, but is still quite interesting and can offer some insight for readers in Tucson.
Sais spent the summer interning as a photographer for a paper in Phoenix. Her roommate left the garage door open at the place she was staying and her bike was stolen.
She filed a police report and posted it on Craigslist.
She was told the police couldn't do much even if they found the bike because she didn't have a serial number — despite having receipts for parts on it and photographs showing traits unique to her bike.
After a month of searching and hoping the bike would turn up, Sais gave up and began looking for a new one. As she was searching for a replacement Benotto, she ran across a listing for her bike.
The listing was part of an online store for a Phoenix-area pawn shop. Here is what she said happened next:
I called Phoenix Police Department's "crime stopper" the morning after I found my bike on ebay — apparently the initial report I made (a few days after my bike was stolen) wasn't a report it was an "incident". I was told that in order to obtain my bike, I would have to refile my report. Why or how that incident rather than a report happened- I'm not sure. In addition to that, the PD branch that was handling my case was backed up by over a month and another woman I spoke with said my case hadn't even been assigned to a detective yet and to proceed, I would have to contact him directly. I called him twice the first day and twice the following day- left voicemails and I still never received a phone call back.

Here is the description of the bike on EBAY.

I went back and forth between the PD branch for the area I lived in, the Phoenix PD pawn detail and the crime stopper number, the last officer I talked to while refiling my report to move forward said that it wasn't up to them to obtain my bike from the pawn shop. They said the best option was to call the pawn shop and explain the situation to them and that hopefully they would put it aside. After filing and refiling and making all these calls- why did I even bother if they couldn't do anything?? It was extremely frustrating. So, I call the pawn shop and thankfully, they put it aside and said that I could pay them what they paid for the bike- $85+store fee, I paid $92.50 for my own bike.

I went to the pawn shop and they said they couldn't release to the bike to me (even tho I had my receipts and pictures and its obviously mine) because then they would be out $85. Phx PD said they couldn't confiscate it until a detective was assigned to the case. PD didn't defend me as the owner of a stolen bike or the pawn shop of accepting stolen property.

The person who pawned my bike was supposedly finger printed and photographed and there was a name/address (I don't recognize the person) this information was given to the officer who I called from the pawn shop to come by and ultimately said everything everyone else already told me- they couldn't do anything and the best option was to pay for my own bike to secure it.

The Benotto does NOT have a serial number and I told PD this and they only said- well then how can you prove it is your bike? Despite receipts/pictures and it being an extremely custom bike- I can identify every single part on that bike and show proof that I put that bike together. The PD didn't really say anything to that, just said for future reference to have a serial number put on it. Thats it.

The pawn shop 'ebay store' was selling all kinds of goods such as GPSs, turntables, bikes, etc… probably all stolen. I honestly gave up looking for it, I was scanning craigslist/ebay for weeks after it was stolen, over a month and half later, boom, its on ebay (which was actually great that I even found it).

The pawn shop said they bought on July 3- why did they wait so long to post it? They didn't have an answer. The pawn shop also said they only have 4-6 things a year that are stolen and reported and this was a rare occurrence.

The manager said I could pay $85 or have my bike confiscated for up to 18 months by PD, he said he wasn't trying to be threatening or anything but just that he wanted his money too.