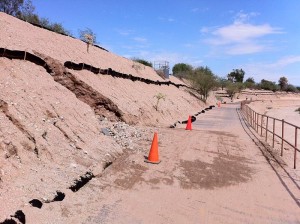 Several portions of the Loop have been severely affected by the recent rains.
John Spiker, an engineer with the Pima County Flood Control program, wrote in an email that the underpass that connects the Rillito and Santa Cruz river paths was flooded and closed.
He said the path could be closed for several weeks while they clean up the mess and complete repairs that were delayed because of the flooding.
A section of the Rillito path between Craycroft and Swan Roads cuts into the wash itself and was flooded on Sunday. Several people said they could not pass the section and had to turn around or find an alternative route.
Another section of the Rillito path between Country Club and Hacienda del Sol Roads had several areas that were washed out making it difficult to pass. This portion of the path had been left dirt for many years because of drainage issues. The county attempted to mitigate those issues with things like retaining walls, but they haven't been 100 percent effective.
Are there other sections of the Loop that aren't passable because of the rain?