Two Pima County paving projects have been completed or are nearing completion.
The first project — a section of Sunrise Drive between Craycroft and Kolb Roads — will be far enough along to provide a smooth ride for El Tour de Tucson participants.
The final layer of asphalt was added last week, though as of this weekend pavement markings had not been finished.
In addition to smoother pavement, the bike lanes have increased from five to six feet.
Pima County's bike and pedestrian program manager Matt Zoll said they will add traditional pavement markings for bikes, but will also add a special green bike lane for a tricky merge point where a travel lane turns into a right-turn-only lane.
The green lane will be painted in the westbound direction about a quarter-mile west of Kolb Road and Sunrise Drive.
Although it is a different color, the new green lane will be similar to the blue lane in the eastbound direction at at Sunrise and Skyline Drives.
Zoll said the painted lines help identify potentially dangerous merging area for motorists and cyclists. But he said, often cyclists don't check over their shoulder when they are merging.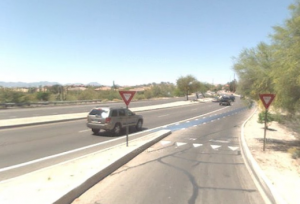 He said he wants to place stencils before the green paint that says "look" and points in the direction cyclists should be checking for merging cars.
He said he wasn't sure if the "look" markings made it into the final striping plan, but said he would make sure they were added at some point in the near future.
The second project, a federally funded repaving of River Road between Pontatoc Road and Swan Road and Craycroft Road and Tanque Verde Road has been completed.
Zoll said the county determined the section of River Road between Swan and Craycroft didn't need to be repaved yet.
The bike lanes are wider in some areas, but Zoll said the bridge near Tanque Verde Road still poses a challenge because it is so narrow. He said he thinks there are plans to replace the bridge in the coming years.