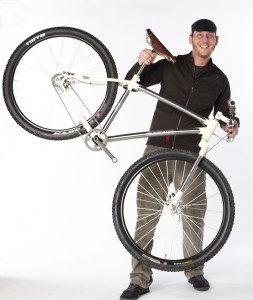 Local custom bike builder Cory Rosene didn't expect much attention when he decided to display his latest creation at the North American Handmade Bicycle Show last month.
"I kind of assumed I would kind of get bored sitting there and just leave the bike and go grab a beer or something," Rosene said.
Instead, Rosene was awarded the Rookie of the Year award for his lugged stainless steel 29er.
Rosene got his start building bikes three years ago when he attended a frame building class hosted by local custom builder Dave Bohm of Bohemian Bicycles.
"I ended up sticking around and becoming his apprentice," Rosene said.
So far, Rosene says he hasn't actually sold a bike, he has only made them for his friends and family. But that is about to change.
"People around the world have contacted me about bikes," he said.
Rosene said he has two bikes to build for local cyclists and then will start taking orders for new bikes.
Because he hasn't actually sold one of his bikes he hasn't established official prices, but has been putting more thought into it since the show.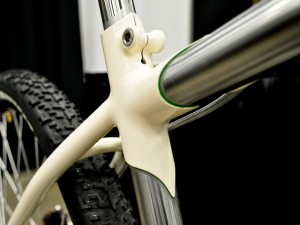 Rosene said a fully custom frame and fork will run around $2,500 and — depending on the complexity — could take a month or two.
Rosene worked on the show bike for four months when he wasn't working at the coffee shop he manages.
Ultimately Rosene said he doesn't know if building custom bikes will pay all his bills, but he knows he wants to work for himself.
"I can imagine I'd open up a custom bicycle/coffee shop themed place," he said. "Something like that would be cool where I could have something on the side that makes a little extra money while I can focus on the thing I am passionate about. Maybe if I am lucky, even ride my bike occasionally."
The photos below are all from photographer Jack Sanford's flickr stream.
More coverage of Rosene's bike: