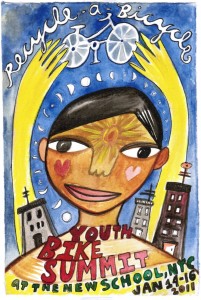 Four Tucson cyclists representing BICAS and El Grupo are leaving for New York City on Friday to take part in the first Youth Bicycle Summit.
The summit is hosted by Recycle-A-Bicycle one of the country's first bicycle collectives.
BICAS education co-coordinators Kylie Walzak and Ignacio Rivera de Rosales, El Grupo's coach, are taking El Grupo riders and BICAS youth employees, Ashley Batchelor and Donovan Caputo to New York.
Rivera de Rosales said the idea for the Youth Bike Summit was created after Recycle-A-Bicycle took a few youth cyclists to the League of American Bicyclists' Bike Summit last March.
He said this year they are targeting the northeastern part of the country and they may be the group traveling the furthest.
"We may be the only ones from this side of the Mississippi," Rivera de Rosales said.
Walzak said they will make a presentation about how BICAS and El Grupo have become a part of Caputo and Batchelor's lives.
In addition to presenting, the group hopes to attend as many sessions as possible.
Walzak said she also hopes to learn enough about the summit to allow BICAS to host their own summit for youth cyclists in the southwest region.
"That would be the goal in the next year or so — to have BICAS and youth leaders put a similar type summit on," Walzak said.
Rivera de Rosales said he wouldn't be surprised if Walzak made it happen.
"If all goes well and knowing how hard Kylie works, it wouldn't surprise me if next year we can provide the same service for the Southwest," Rivera de Rosales said.
Editor's note: The group will send several updates throughout the weekend, which I will post on Tucson Velo.