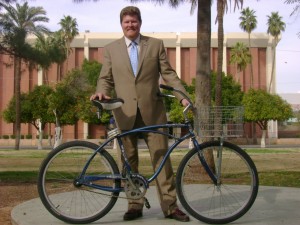 State representative Daniel Patterson has once again submitted a bill which would allow cyclists to treat stop signs as yield signs.
HB 2130 states:
C.  The driver of a vehicle approaching a yield sign and any person who is at least sixteen years of age and who is riding a bicycle approaching a yield sign or a stop sign shall slow down in obedience to the sign to a speed reasonable for the existing conditions and shall yield the right‑of‑way to any vehicle in the intersection or approaching on another highway so closely as to constitute an immediate hazard during the time the driver or bicycle rider is moving across or within the intersection.  If after driving or riding past a yield sign or stop sign without stopping the driver or bicycle rider is involved in a collision with a vehicle in the intersection, the collision is prima facie evidence of the driver's or bicycle rider's failure to yield the right‑of‑way.
The addition would require cyclists slow to a reasonable speed, yield the proper right or way and then proceed through the intersection without coming to a complete stop.
Patterson said last year when the bill failed to make it out of committee that more support from the cycling community was needed to make the bill a priority.
Here is a video Oregon put together explaining the idea, which is often called the "Idaho Stop" because Idaho allows cyclists to treat stop signs as yield signs.
What do you think? I'll have a follow-up post with how to support the bill.