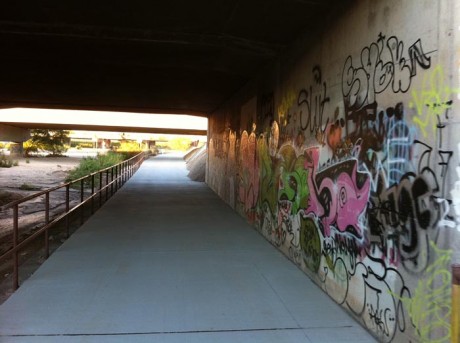 The route for a large weekend bike ride highlighting climate change was in jeopardy after recent storms flooded the connection between the Rillito and Santa Cruz River paths.
This week, however, crews have cleared the debris and repaved the path under the train tracks and Interstate 10. Check out the photos below to see what it looks like.
Connect 2 Tucson ride organizers had planned an alternate route if the path wasn't reopened prior to the event on Saturday morning.
The main ride starts at 7 a.m. and consists of a 22-mile loop starting and ending at Drachman Plaza on the campus of the University of Arizona. Check out the event for all the details.
Additionally, organizers have created a shorter 6-mile option that leaves at 7:45 from Drachman Plaza. A friend and I are organizing a Tucson Cargo Bike group ride to participate in the shorter option. We are hoping to get as many cargo bikes together as possible.
Hopefully we'll be able to stick around at the plaza for awhile to show off our cargo bikes, answer questions and let people get a sense about what cargo bikes can do.
Here are a few more photos from the newly paved connection.