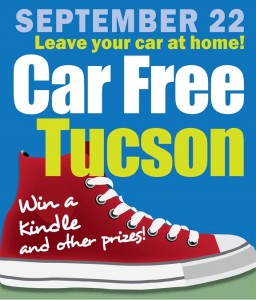 Many of you probably don't need any extra convincing to get out of a car and onto a bicycle  (or other alternative mode of transportation) but the city is promoting its Car Free Tucson day on Thursday and you can win prizes just for writing about your commute.
The Car Free Tucson day is in conjunction with the World Car Free Day.
Here's what the World Car Free Day organizers have to say about the event:
Every September 22, people from around the world get together in the streets, intersections, and neighbourhood blocks to remind the world that we don't have to accept our car-dominated society.

But we do not want just one day of celebration and then a return to "normal" life. When people get out of their cars, they should stay out of their cars. It is up to us, it is up to our cities, and our governments to help create permanent change to benefit pedestrians, cyclists, and other people who do not drive cars.

Let World Carfree Day be a showcase for just how our cities might look like, feel like, and sound like without cars…365 days a year.
To entice Tucson commuters to get out of their cars, local organizers are giving away prizes including a Kindle. Here's how you enter:
To enter the Car Free Tucson contest, visit www.884RIDE.org or Sun Rideshare on Facebook and write a story describing your Car Free Tucson Day "car-less" commute.  For extra contest points, be creative and include a picture or video taken during your commute to download on Facebook, or post your written story on www.884ride.org.
Additionally, organizers will have a commuter station with snacks set up at Country Club Road and Third Street from 7 a.m. until the food runs out.
Here are a few facts about car commuting from Pima County:
The majority of air pollution in Pima County is caused by our motor vehicle use.
We drive about 29,000,000 miles a DAY in eastern Pima County.
Every 41 miles we drive puts 1 pound of pollution into the air we breathe.
Personal vehicle use creates 99% of eastern Pima County's transportation-related greenhouse gas emissions.
We make more than 2,000,000 trips in our vehicles each weekday in Pima County.
People who use transit, walk, or bicycle to work get more exercise than those who drive alone.
I'm curious as to whether these kind of events work. What do you think?
My goal is to compare the ridership on SunTran on Thursday to previous Thursdays to see if there are more people who used the bus. Any other ideas for gauging whether there are fewer cars on the road?