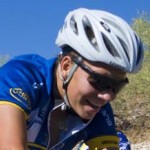 Editor's note: 14 -year-old Max Cronyn was invited to the USA cycling southwest regional development camp in Flagstaff and will be filing daily updates about what he is doing at the camp. I've asked him to answer several questions each day, but if you want to know something, I'll forward your question to him.
Today's activities:
Today we went for a forty-mile ride that took about two hours. It was a group ride that was pretty easy.
We came back and ate dinner at the cafeteria that is downstairs and then we played pool until the night's presentation. At the presentation, they just told us about what we are going to be doing for the rest of the week.
Most fun:
There were two ex-pros on the group ride today and it was pretty cool getting to ride next to them and talk to them. Playing pool was pretty fun too.
Most challenging:
It wasn't super challenging, but we had to stand up in front of everyone and introduce ourselves and tell people what we wanted to get out of the camp. I told them I wanted to meet other junior riders and wanted to learn whatever I can.
Best food:
There was pizza. I liked the pizza and the dessert, which was several cookies and some dried fruit.

Up next:
There is a kilometer-long climb that we are going to do three times to try to determine what kind of watts we are putting out.