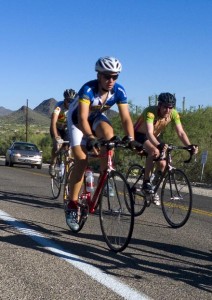 The riders make a sweeping left onto Sweetwater Drive, which marks the beginning of the El Grupo points race during Thursday morning practice.
Max Cronyn, 14, riding his time trial bike, tucks into an aero position and launches himself off the front of the group.
Max, who is tall, muscular and has hands that his coach describes as paws, accelerates away from the group with ease.
Eventually his father, who is also his main coach, fellow El Grupo teammate and El Grupo coach organize a chase group. They take short, fast, and agonizing pulls at the front, but are no match for Max who continues increase the gap.
He takes the two points awarded to the first rider over "sprint hill." The only real competition was for second place.
Max's coach Ignacio Rivera de Rosales see limitless potential in the young rider.
"It is almost like sky is the limit," Rivera de Rosales says. "His work ethic is such that if he keeps this up with real individualized training, I think he can do what he wants to do with the sport."
His potential, work ethic and race results were enough to get him invited to the USA junior cycling southwest regional development camp being held this week in Flagstaff.
But for Max, he says he would like to be a professional racer, but that isn't his only goal in life.
"I don't think I want to do that for the rest of my life," he says. "I really like it and I am always going to ride my bike. I really admire the people who race professionally, but there is other stuff I am interested in too."
Max, a straight-A student at Amphitheater High School, isn't a typical American teenager.
"He is not like the other kids who were raised on Playstation," says El Grupo volunteer coach Hunter King. "There is something definitively different about Max."
That difference may largely be because of where he lived for the first 10 years of his life.
Although he was born in Logan, Utah, it wasn't his home.
"I never lived in Logan," Max says. "My mom grew up there and we have relatives there, but I never lived there really. When I was like a week and half old we moved back to West Africa."
Max and his family, who were part of the Peace Corp,  lived in various West African countries including Ghana, Burkina Faso, Niger and Chad before moving to Tucson in April 2006 when his family was evacuated from Chad because of an attack on the capital.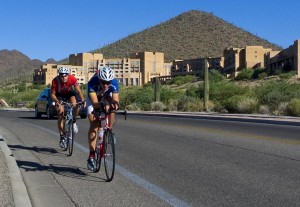 Max learned to ride a bike in Africa, but didn't start riding competitively until he and his family moved to Tucson.
Max's father and primary coach, Nelson Cronyn, says Max's first races were on his mother's touring bike, racks and all.
Max joined El Grupo shortly after taking a bicycle safety class with Rivera de Rosales.
"It is kind of in his blood," Rivera de Rosales says. "He kind of sees it as his family duty almost."
Max, who is one of the youngest riders at the development camp, will spend the week competing with other junior racers for a spot on the USA cycling regional team.
Because he is young and there will be many older riders who have already gone to several camps like this one, he might not finish high in the field.
"He is probably going to get his butt handed to him," King says. "But with a kid like Max he is going to take that as an opportunity. He is not going to walk away with his tail between his legs and never race again. He'll come back stronger."
Max will have more than a year to focus on coming back stronger. In October, he and his family will return to Niger for 10 months, which means he will miss the 2011 development camp and US Junior National race, but his coaches aren't worried.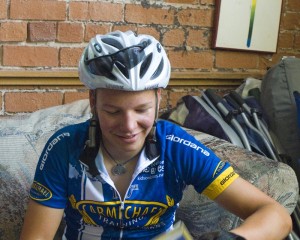 "I think it is only going to be positive," Rivera de Rosales says. "I think the life lessons there are only going to carry through in a positive manner into his cycling. Knowing the family, he is not sitting on the couch or the dirt while he is there."
"I will not be surprised if he comes back even more determined and doing even better on the flip side," King says. "Where as some other kids you would never see them again."
Despite his talent on the bike, it is his work ethic and personality that is constantly mentioned by those who know Max.
"I think Max is a lovely young man," King says. "Not only is he a good dedicated rider and racer, but he has just such a good head on his shoulders. His heart is in the right place. You meet young people, yeah some of them are punks and some are this or that. You meet other ones and you are like, 'ohh this one is going to be a good man someday.' That is Max."
The finish line on Thursday morning is always at the top of 'A Mountain' and the rider who reaches the top first is awarded 3 points, the most awarded at any point along the route.
Max and fellow El Grupo rider Alex Strickland tie for first place. It is quickly determined that the only way to settle it is to have the two young riders climb 'A Mountain' once more.
"Riders up," one of the spectators yells as Alex rounds the bend with Max a few bike lengths behind him powering his time trial bike up the hill.
Despite the second place finish, Max crosses the finish line with a smile on his face.
Editor's note: During his week at the regional development camp and a his subsequent trip to the US Junior Nationals, Max will file daily diaries updating us on what is happening there. Be sure to check back each day to see what he is up to. Check out his first update from camp.