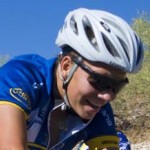 Editor's note: 14 -year-old Max Cronyn was invited to the USA cycling southwest regional development camp in Flagstaff and will be filing daily updates about what he is doing at the camp. I've asked him to answer several questions each day, but if you want to know something, I'll forward your question to him.
Today's activities:
We rode for about 40 minutes out to the climb near Snow Bowl. It was another time trial, but this time it was about 3 miles. We didn't get to ride it before the start of the time trial so it was hard to know how hard to push. It didn't turn out too bad.
I finished around 20th again. The top time was Thomas Jondall who rode it in 15:32. I rode the course in 17:52.
It wasn't as steep as yesterday's ride, but I think on average, it was steeper than Mount Lemmon.
After lunch we had a little down time, before we went out to the grass to practice bumping skills. They paired us up and we tried knocking each other off our bikes.
We also practiced head butting each other. You ride shoulder to shoulder with someone and then you whack your helmet into their helmet or shoulder. You can push off with your head to help stay upright or you just do it to make their shoulder hurt.
All of these skills help you stay on your bike in a tight pack. Sometimes people will lean into you or if you try moving up in a pack you might get bumped a lot.
All the pro racers are really comfortable with bumping, touching wheels and shoulders on all sides, but you have to do a lot of practice to get good at it.
After dinner, we had a presentation about nutrition on the bike. There was a lot of information and it is kind of hard to process it. She told us that there isn't one best drink you have to figure out what works for you.
They gave us a booklet and power point presentations to take home with us. The booklet is called, "Optimal dietary intake: The basics for sport and life."
Most fun:
We played this game called Garbage Can Ball. They set us in teams of seven and you had to pick up the ball from the ground from your bike, but you couldn't hold it for more than three seconds. The goal was to pass the ball around to your teammates and try to get it into the garbage can. If you touched the ground, you were eliminated from the game.
Our team got second place and missed out on the prize, which were socks.
Most challenging:
The time trial was really hard. The last seven or so minutes,  it was hard to keep going. One thing I do to focus is count my pedal strokes. I'll count 10 on one side, 10 on the other side, 20 on one side 20 on the other side. Sometimes I'll lose track, usually around 150, and I'll have to restart.
On my mind:
Tomorrow is a much flatter time trial I am excited to see how people ride on the flatter rides. Obviously I have a good idea of how people climb, but I want to see how people time trial on a flat course.
I think I've ridden really hard and I am happy about that. I think I am getting pretty close to riding as well as I can. A lot of the other kids out here are pretty strong.
Best food:
I actually started eating more of the vegetarian meals. I had a vegetarian rice dish that was pretty good, but then I went back and got some chicken with rice.
Up next:
Tomorrow we'll ride out to a time trial course that has a small hill in the middle, but it isn't very steep. We'll ride out to the far side of the course and do it twice in one direction and once in the other.