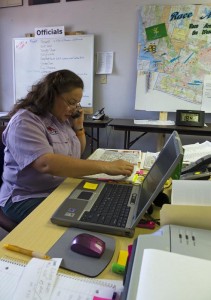 More than 225 cyclists are racing across the county and it is Tucsonan Barbara Franklin and her crew's responsibility to keep track of them, assess penalties, update the online leader board and alert riders to important information.
Franklin, who is the manager of Race Across America Headquarters, does it all from the conference room at the Perimeter Bicycling Association of America's office in Tucson.
"People will refer to us as the nerve center," Franklin said. "Information comes in and goes out from here."
RAAM, which started in 1982, challenges riders to ride more than 3,000 miles in less than 12 days. Racers can compete in several divisions including, solo men, solo women, 60 or older mean, and two, four and eight person teams.
A member of every rider's crew is required to call headquarters each time they pass a checkpoint, which are located every 50-70 miles along the route. The staff at headquarters then updates the results page on the RAAM website. (Check out the video below to see how it all works)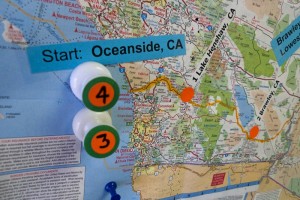 Franklin, who also works for Perimeter, has been involved with RAAM for many years, but has been the headquarters manager for three years.
Her first year the headquarters was in Boulder, but in 2009 race officials moved it to Tucson.
Franklin said it made more financial sense to move it to Tucson because RAAM didn't have to pay for her airfare and hotel bills. She said Tucson also has a committed cycling community, which makes hiring people easier.
"By having it here I can staff it with people that I know or that I can meet and  approve of, people who are interested in it instead of just having people who are interested in having a two-week job," Franklin said.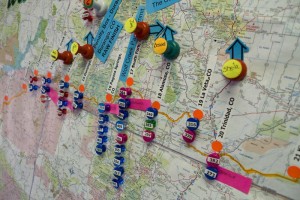 Franklin said she is at headquarters for 12 to 16 hours everyday and there is someone answering phones 24 hours a day.
"So long as there are cyclists out there pedaling there is somebody here at headquarters," Franklin said.
This year, organizers are attempting to bring more attention to the race as America's premier bike race.
"Race Across America is exactly what Americans do," Franklin said. "We do everything, bigger and better and longer and harder. It's what we do."