Update: There and Back Bikes officially opened its doors Thursday morning. Vihel said for now the hours are Monday-Saturday 10 a.m. -7 p.m. and Sunday noon-5 p.m. Those hours may be adjusted as Vihel determines what the demand is.
A new commuter-focused bike shop is opening this week near the University of Arizona Campus .
Steve Vihel, said he is hoping to open There and Back Bikes — which is located at 1712 E. Speedway Blvd. — as early as today. He said he was waiting on his credit card machine and a few more bikes before opening the shop.
Vihel said he wants to help serve existing commuters, but wants to focus more on bringing new riders to bike commuting, which he said was the best way to get people connected to biking.
"I want to get people out of cars and back to enjoying their daily commute rather than grinding their teeth and being distracted when they get to where they are going," Vihel said.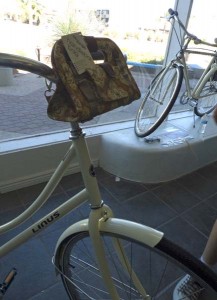 He is going to target UA students, faculty and urban professionals.
Bike commuting is his passion because that is the kind of riding he does.
"I'm passionate about bike commuting," Vihel said. "I have a bum heart, which means I can never really be a competitive cyclist. I can still go out and put on lots of miles and have a great time.  I'm never going to win a road race."
Vihel has been working on bikes since high school in Flagstaff, later spent time working at Ordinary Bike Shop here in Tucson and then at Full Cycle in Boulder, Colo. while getting a graduate degree in linguistics.
He said he returned to Tucson because he loves the city and the people.
"I'm freeish at the moment and I just had a hair of spare money put aside, so I decided to open a bike shop," Vihel said.
Vihel said he was going to focus on providing as much value as possible to his customers because he said it was clear when riding around Tucson, that is has been hit hard by the economic downturn.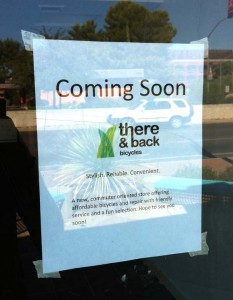 "I'm big on value," he said.
Vihel said he picked the name There and Back Bikes, which was inspired by the Golden Girls theme song, because it tells his customers he'll be there for them.
"I think it evokes, trust worthiness, friendship and reliability," Vihel said. "I think those all really important in a store."
The shop will stock, Linus, Felt, Giant and Biria commuter bikes as well as different fixed gear, cruisers and cross bikes. He'll also stock commuter-focused accessories like Basil bags and Dring Dring hand painted bells, which will be more colorful and fun than standard commuting gear.
The shop will also feature a lounge area for customers to wait while Vihel repairs their bike. He said it would be great if it turned into a hangout too.
Vihel is also planning to host his own bike-to-work festivities. He said he was hoping to provide free coffee and bagels to bike commuters from 7 a.m. to 9 a.m. on the second Wednesday of every month.
For the time being, Vihel will staff the shop by himself, but said when business picks up, he will look at adding employees.