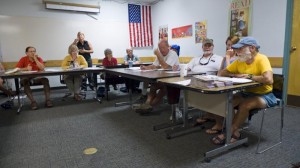 No action was taken on bike boulevards during Wednesday night's Tucson Pima County Bicycle Advisory Committee meeting.
The lack of action essentially solidifies the BAC's stance supporting equal standing for bicycle boulevards in the RTA.
BAC members Eric Post and Julie Prince went on the record indicating they could no longer support the BAC's motion because they wanted to ensure the projects the voters approved in 2006 were finished before bike boulevards were funded.
Post said if there was money left over after all the projects on the voter-approved list were finished, then he would support spending RTA money on bike boulevards.
BAC member David Bachman-Williams reminded the committee that they supported allowing the RTA to fund projects that were not part of the vote even before bike boulevards became a part of the discussion.
The BAC rehashed many of the arguments for and against bike boulevards, but ultimately ended the discussion, taking no action.
Undercover bike cops

Sergeant Jerry Skeenes presented information about the bicycle and pedestrian enforcement program, which you can read more about here.
In addition to the information in the previous story, Skeenes said they are using plain-clothes bicycle officers who are are being followed by an unmarked police car looking for drivers who violate the three-foot law.
Skeenes said bicycle officers often get more room than regular cyclists, but said cars do pass too closely occasionally.
According to Skeenes, the bicycle officers often can not catch up to cars. The unmarked police car allows the vehicles to be caught to cite the driver.
Bicycle crashes increase in Saguaro National Park
Paul Austin, the Rincon Mountain district ranger, who oversees the Forest Loop Drive in Saguaro National Park East gave a brief presentation about issues facing the park. You can read about many of the issues in a previous story here.
Austin said so far this year, there have been 14 serious bicycle collisions crashes that have required emergency response. According to Austin, the park usually averages seven serious collisions.
He said the number will continue to climb as the weather cools and more people ride the loop.
The park is looking into ways to increase safety on the loop.