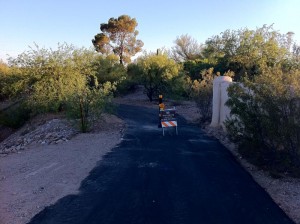 A missing piece of the Rillito River path is now paved and open.
While construction of the northern portion of the path on the Rillito River between Country Club Road and Hacienda Del Sol Road isn't officially finished, it is paved and open to cyclists.
Matt Zoll, Pima County's bicycle and pedestrian program manager, told League of American Bicyclists president Andy Clarke on Tuesday that the dirt portion of the path had been a missing link for the last 20 years.
In addition to paving the path, project manager John Spiker, created a paved connection from the path to River Road allowing cyclists to avoid the Campbell Avenue and River Road intersection.
If you do ride the new portion of the path keep an eye out for work crews who are finishing up flood control work.
Check out the video below to see what the new path looks like.
Here is a map of the stretch that has been paved.

View Rillito Projects in a larger map