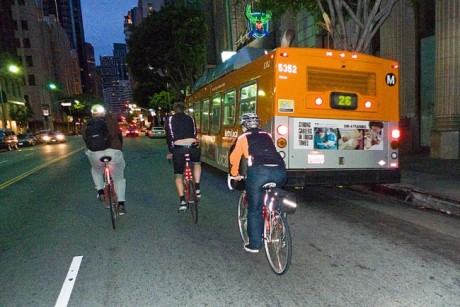 For the last two days I've been in Los Angeles on a panel at the Knight Digital Media Center's News Entrepreneur Boot Camp. You might remember that last year I participated as a boot camper.
Like last year, I managed to convince some LA cyclists to lead me on bike tour of their city. Our ride started shortly after my flight landed. I realized that by the end of the night I had used a car, flown in a plane, car-pooled in an airport shuttle, took a bus, rode a bike, took a train, road a bike again, hopped on a bus again and finally walked a mile. A very multi-modal day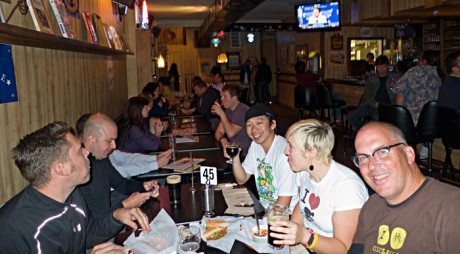 Jennifer Beatty and Joe Anthony organized the ride this year and secured a bike for me to ride. Both Beatty and Anthony also attended the ride last year. You might recall Anthony from a story about how he is mobilizing cyclists using Twtter. Beatty will actually be in Tucson this weekend and may be interested in riding. Follow her on Twitter.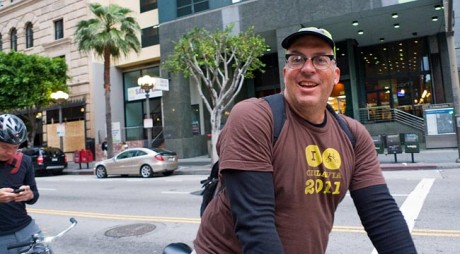 This year we were joined by some new faces too.  Joe Linton who is one of LA's most prominent bicycle advocates and director of CicLAvia.
Don Ward a.k.a 'Road Block' is one of the creators of Midnight Ridazz a wildly popular website for LA cyclists to list rides, submit photos and talk about riding in LA. He was also recently named an Advocate of the Year.
And finally we were joined by Johnny Lam a local cyclist who is living car-free in the LA area. Lam, who works in the movie industry, said he started riding when he was invited by co-workers to participate in a triathlon. He started trying to keep up with the group on a mountain bike, but despite that, he had a blast. Eventually he bought a road bike, then a fixie, then a full-on commuter bike. Now, Lam makes his 13-mile commute by bike and train and decided to sell his car. Follow him on Twitter.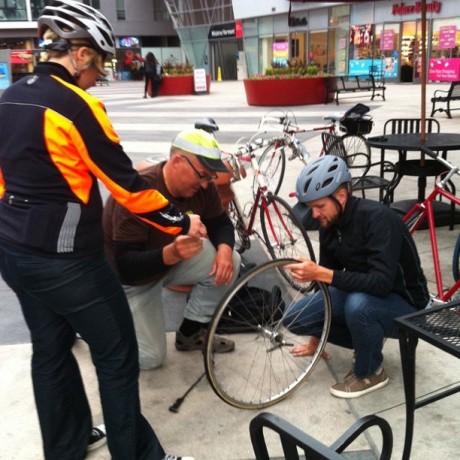 The ride got off to a bit of a late start when the spare bike rustled up for me got a flat. Once the new tube was added we realized the old tire was worn out and bulging from the pressure of the tube. With a quick dollar bill boot installed, we rolled to a little bike shop run by a family who spoke very little English. Luckily, Linton spoke Spanish well enough to communicate.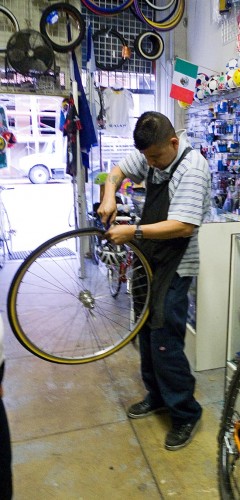 The older bicycle had 27-inch wheels and after a lot of attempts, nothing fit and we left with a better patch and hoped the tire would hold.
We rolled into downtown where Linton took the whole group on a historic tour of downtown LA. We saw Union Station, lots of street art and attempted to get inside the Bradbury Building, but were kept at bar by a security guard.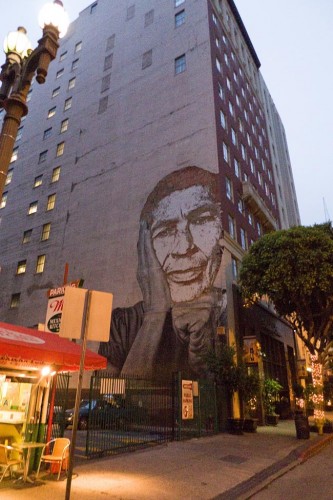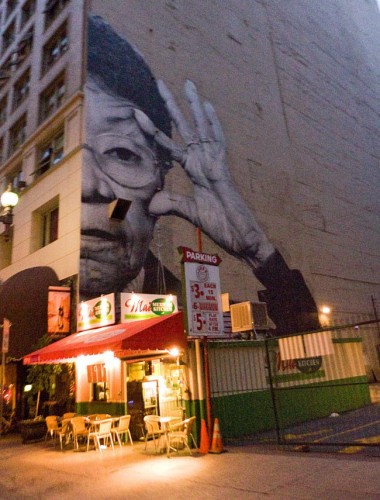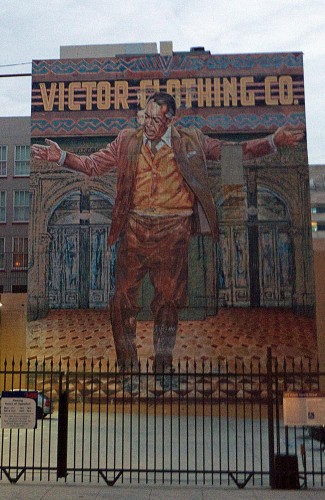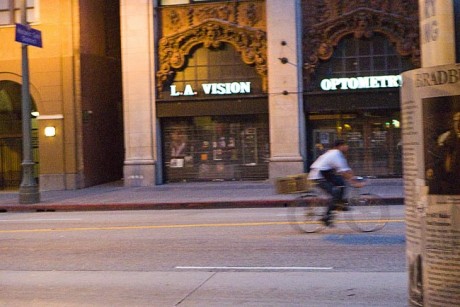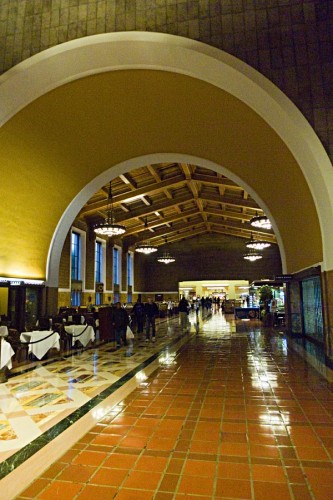 After picking up Ward at Union Station, we returned to Koreatown and took the LA Subway to the Burbank area.
The subway was incredibly busy and the bike barely fit. Unlike Portland's, trains, there aren't any specific areas to place bikes when riding the train. Linton and I were constantly trying to move our bikes to get out of the way of other people.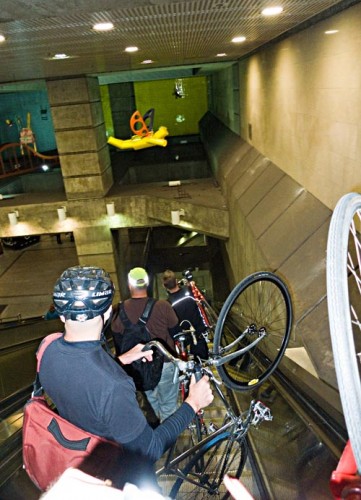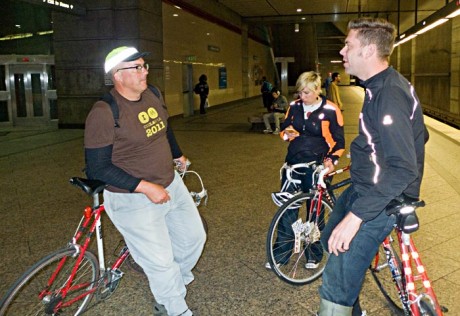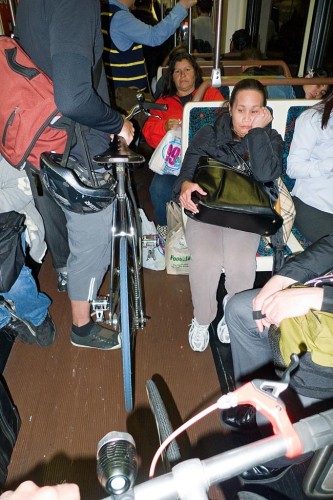 Until recently, bikes were not allowed on the trains during the busiest times.
Once we hit Burbank we took a two mile Rails-to-Trails path called the Chandler Bikeway.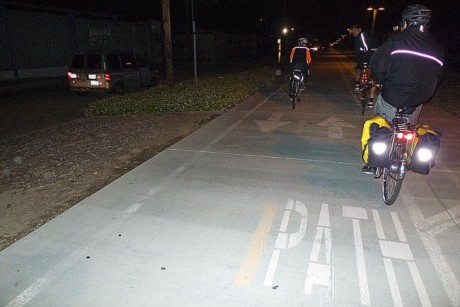 We stopped at bike-friendly bar, Tony's Darts Away, for food and drinks in Burbank. Word is the bar will soon be replacing the closest parking space with a bike corral. That is something I would like to see more businesses in Tucson do.
Following dinner and drinks we took a portion of the LA River Path back into LA.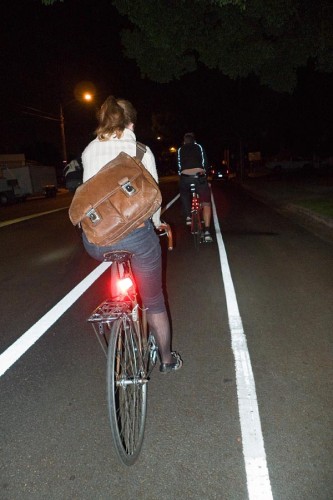 A couple things struck me while riding through LA. Like last time, I was actually very impressed with the drivers. I've been told that drivers can be pretty awful, but given the lack of bicycle infrastructure and the number of times we were taking up the lane, not a single driver honked or yelled at us. I'm assured they have their share of terrible drivers, though.
Perhaps drivers are more tolerant of cyclists taking the lane because there isn't anywhere else for them to go. In Tucson, I certainly would have expected to have several negative interactions with motorists.
All the cyclists who rode with us said it wasn't that hard to ride in LA. They all want it to be better and they all want better infrastructure, but it makes me wonder how critical the infrastructure actually is.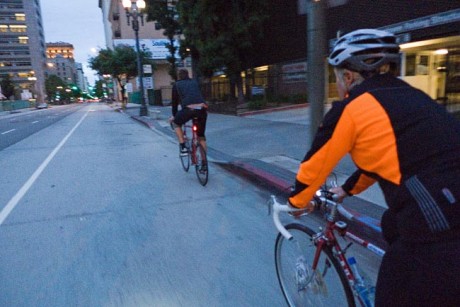 The other thing that struck me is how little traffic there actually was. I think the city has a stigma that it is a place with bumper-to-bumper traffic, 24-hours-a-day, seven-days-a-week. In actuality, traffic was heavy during rush hour, but by 8 p.m., the traffic was really light and it was pleasant to ride.
I want to thank the cyclists who took the time to show me around their city. I really appreciated it and think that a bike really is the best way to experience a city.
By riding you use all your senses to experience a place. The sights are slower, the smell of the restaurants in Koreatown, the conversations between pedestrians and the feel of the cool air all make for the richest experience possible.